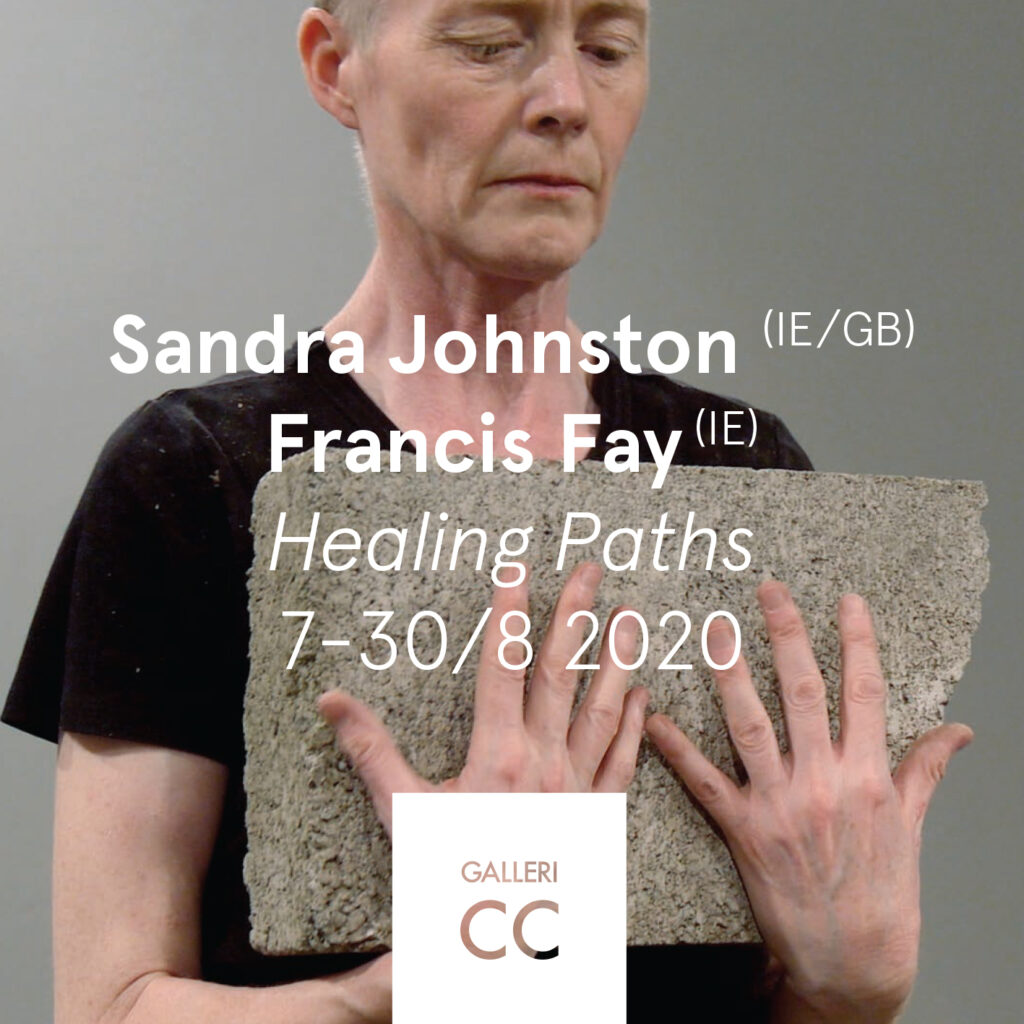 Healing Paths
7 – 30 August 2020
Galleri CC, Malmö

Sandra Johnston (IE/GB), Francis Fay (IE)
Curated by Maria Norrman (SWE)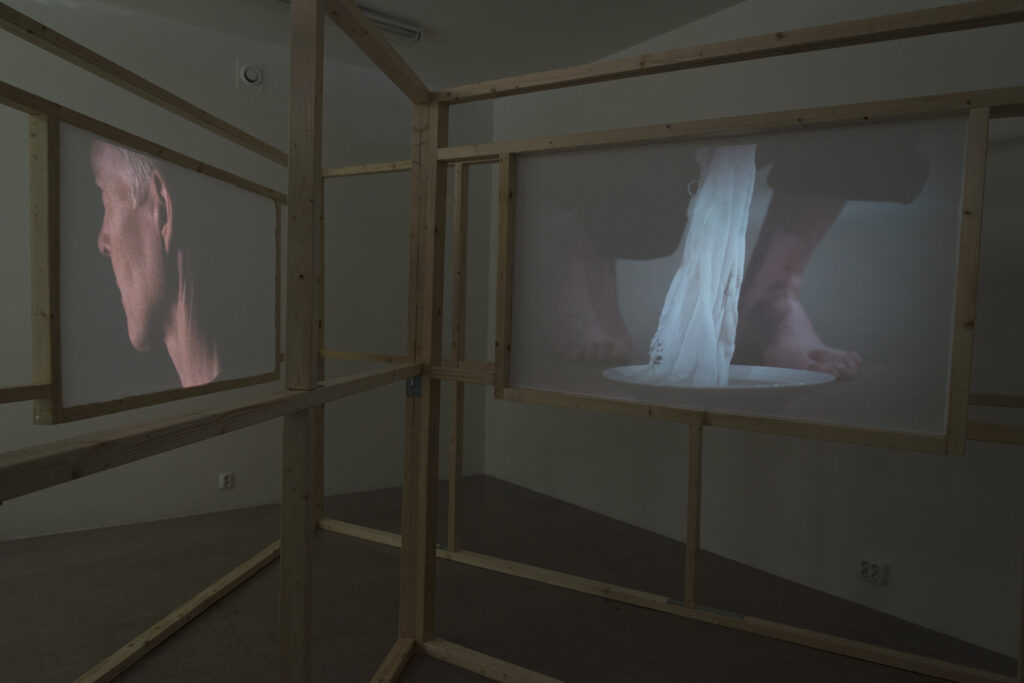 For the exhibition Healing Paths at Galleri CC, Maria Norrman has invited two performance-based artists, Sandra Johnston from Northern Ireland and Francis Fay from the Republic of Ireland. Their work deals with the modern history of Ireland in a personal way. Norrman has visited Ireland twice, and became acquainted with the work of Johnston and Fay. She saw how their work could intersect and reflect upon the state of the island, its brutal history, its mystical side and its future.

A brief summary of Irish history starting from 1916: Ireland was proclaimed independent from England in 1916, which was followed by a Civil War on the island. Northern Ireland stayed within British rule. The 1920s and 30s saw the Republic of Ireland try to establish its image – through songs, folklore, an image of the mythic Ireland of a pre-Christian past. The conflict, known as The Troubles, started in Northern Ireland in the 60s, making the province a Police state with checkpoints and hard borders towards the rest of the island. Violence escalated between the police, British army and sectarian paramilitary forces identified as coming from either protestant or catholic communities. A ceasefire and truce were declared in 1998.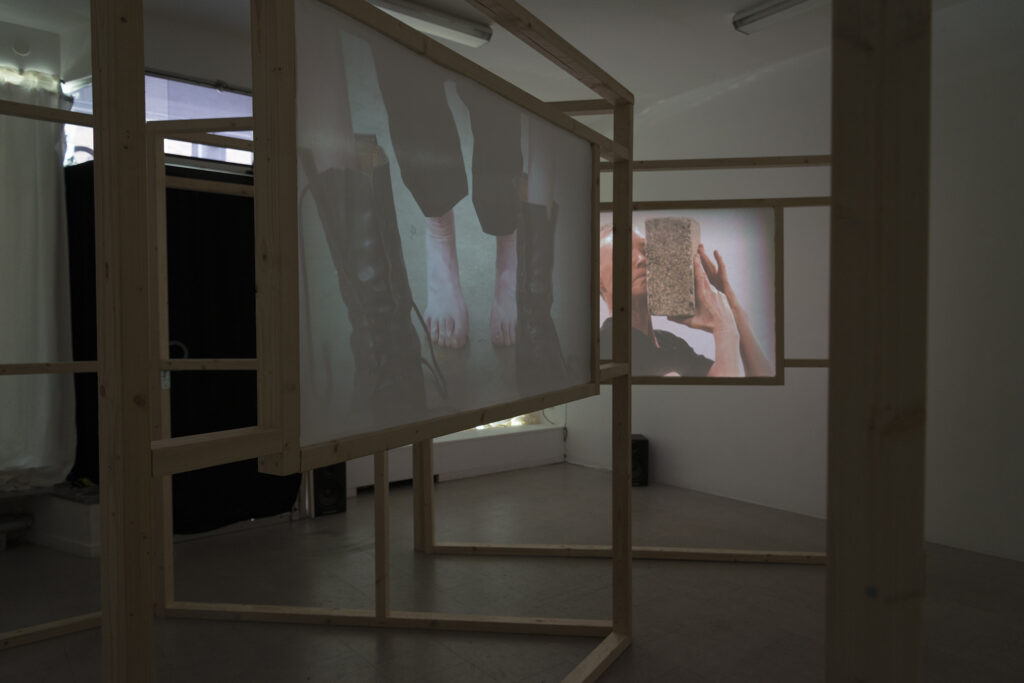 Sandra Johnston
– In her performance presented as two video loops named That Apart (made in collaboration with Scottish moving image artist Richard Ashrowan) Johnston is using items linked to the conflict known as The Troubles, such as British army military boots and drumsticks from a military marching band. This is used along with everyday objects like: plates, human hair, an envelope and dish cloths. Johnston also interacts with heavy concrete building blocks synonymous in Belfast for their use in urban rioting.

The direct brutality of actions such as boots slammed against the wall is put into relation with more subtle movements, yet all the interactions with objects carry a sense of unease. The repetition and ritualistic feeling of the movements and sounds produced create a tension of retraumatization, where both the objects and the body perpetuate latent gestures of memory.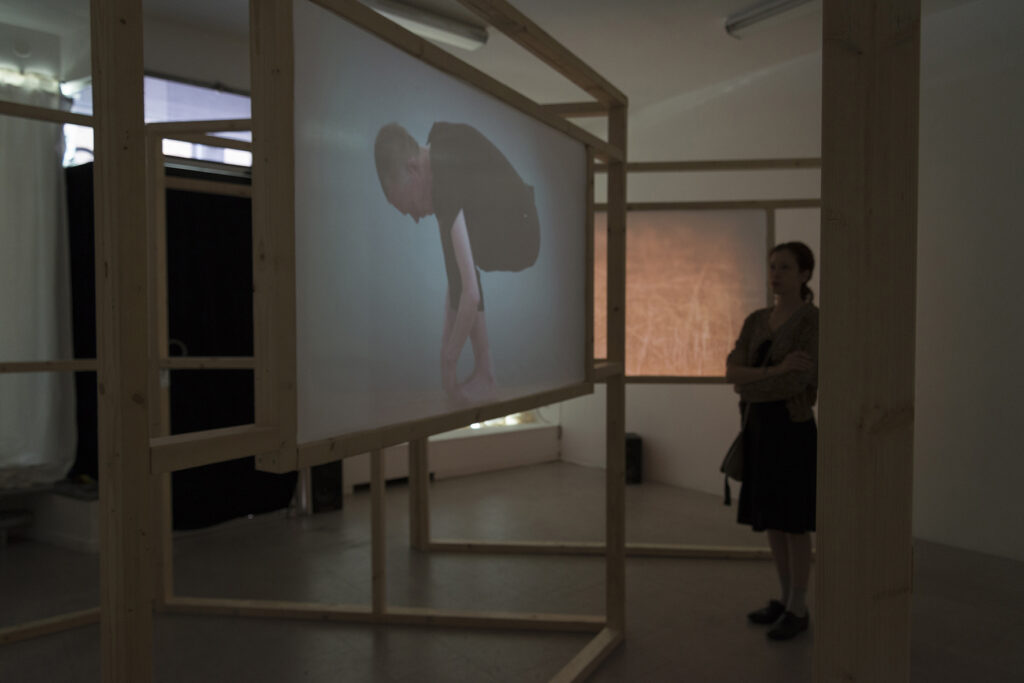 The wooden structure in the gallery which contains the two videos forming That Apart, is a partial reconstructed of the types of 'security corridors' used in Northern Ireland to control the movements of citizen in public space, which was a recurring feature of life in Northern Ireland during The Troubles.

In contrast to That Apart, the silent 16mm to video loop Folding In (made in collaboration with Richard Ashrowan) shows Johnston interacting with nature, touching it gently, examining it, by for example slowly caressing a tree which is wrapped with grass and weeds. She also touches parts of her face in a tactile way adjusting it gently in response to changes in the sunlight. These movements reacting simply to nature in a restorative environment signal a desire to seek self-healing through gesture.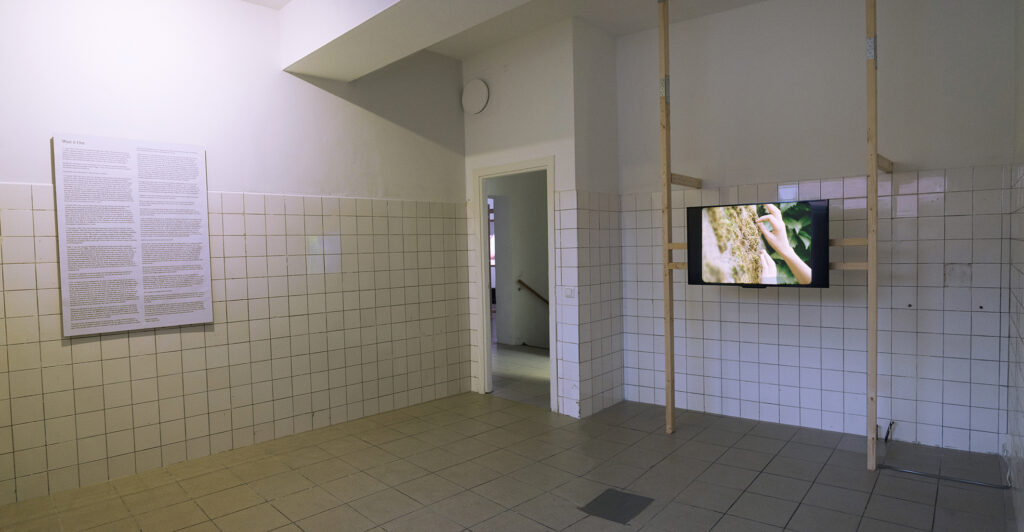 In the text work Wait It Out Johnston describes the everyday violence and tensions experienced during The Troubles from a personal viewpoint. The Troubles made Johnston's generation into, in her own words, 'a generation of escapologists', as her own strategy of coping was to get out of Northern Ireland and wait it out.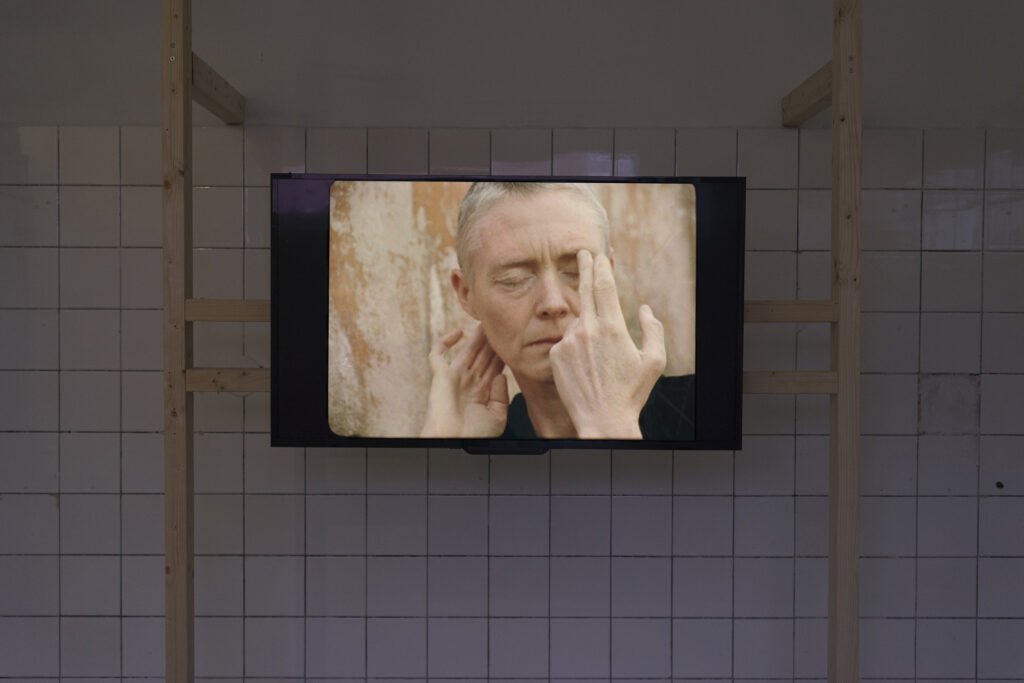 Sandra Johnston is a visual artist from Northern Ireland working internationally since 1992 in the areas of performance, video installation, drawing and writing. The performance actions are improvisational and sparse in nature, developed through intimate explorations of specific contexts, materials and gestures. Each work is an imperfect attempt to search for fluidity and clarity in the present moment. Johnston frequently works collaboratively and has been involved long-term in the development of artist-led performance networks. She has held several teaching and research posts including an AHRC Research Fellowship (2002-2005) at the Ulster University, Belfast, investigating issues of 'trauma of place'. In 2007 she was the 'Ré Soupault' Guest Professorship at the Bauhaus University, Weimar and currently she teaches at Northumbria University, UK. In 2013, she published, Beyond Reasonable Doubt: An Investigation into Concepts of Doubt, Risk and Testimony Explored Through Consideration of Performance Art Processes in Relation to Systems of Legal Justice (LIT, Germany).
Francis Fay
– In the 4 hour durational performance The Singing Flame, documented on video, Francis Fay stands undressed except for underwear, balancing a lit candle on his head and two lit candles in his hands from his outstretched arms. The song When Irish Eyes Are Smiling is played on repeat throughout the performance. The song is of American origin and from the 1910s. It presents a romantiziced image of Ireland.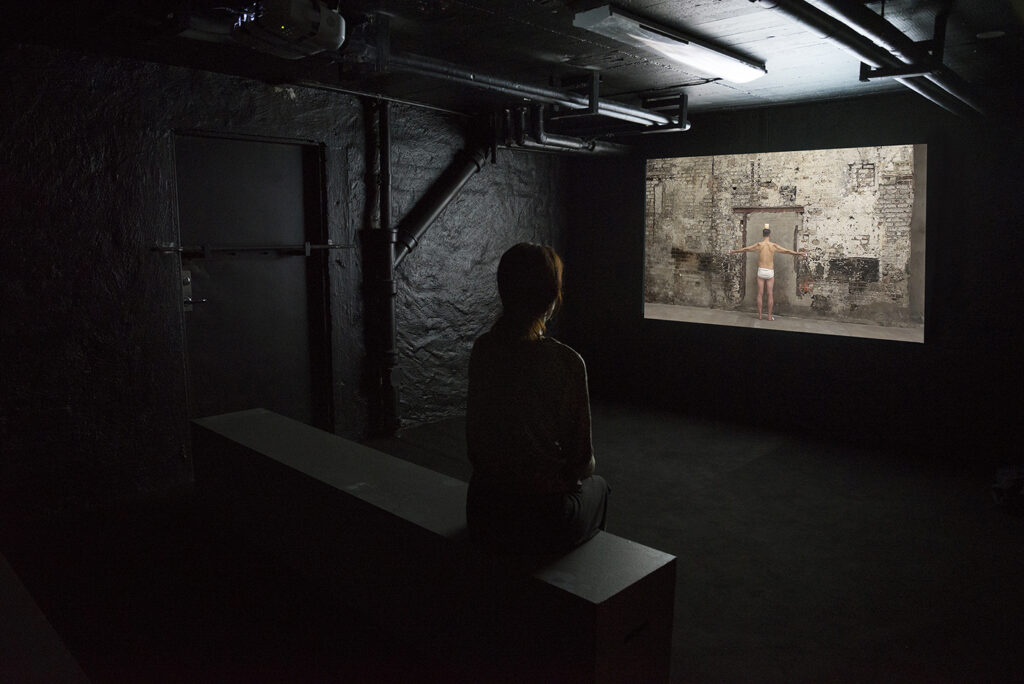 The performance contains balance, repetition and endurance. Its ritualistic, timeless, and simultaneously also out of time. A lit candle can be seen as marking someones absence, either someone who's departed or someone who's left their homeland never to return. At the end of the performance, Fay lifts the candle and pours the wax on his back.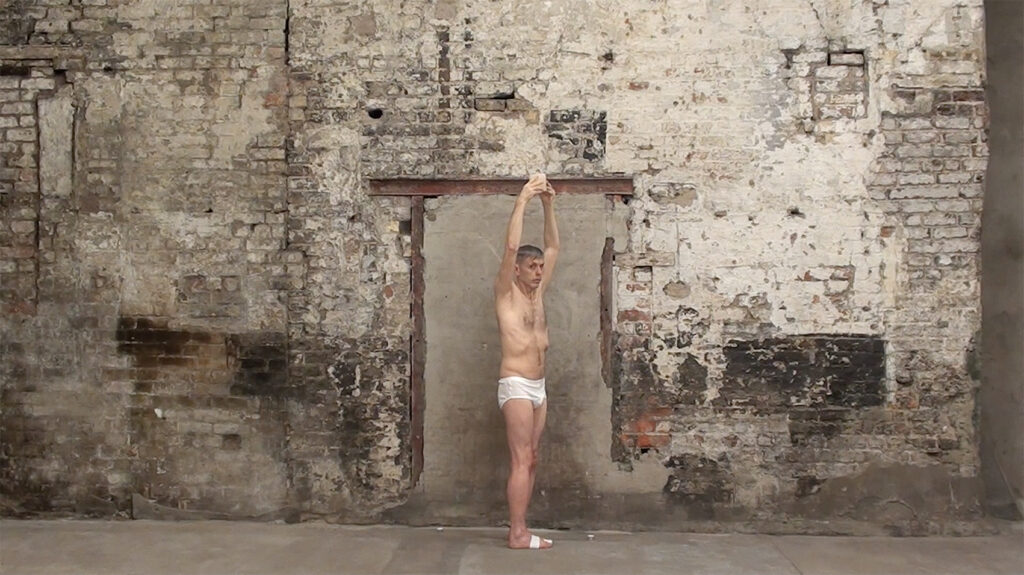 Francis Fay is an Irish artist based in Dublin. He is interested in the disconnect between persona and true self. His focus is on the relationship between body/mind in time and space. The artist explores 'that' which is unchanging and constant. Fay interrogates appearance, veneers, and the investment by an individual, the state, and society in utopias. His performances often include gesture, sound, mirrors and masks which he believes help question and queer assumptions. He hopes to expose the apparent flaws in the notion of the ideal, focusing instead on that which connects mind, body and soul. Through performance, ritual and humour the artist expresses new ways of being.Fay holds an MFA | Art in the Digital World, NCAD; BA Fine Art, DIT; BTEC National Diploma in Performing Arts from Leeds. He is a founding member and co-curator of Livestock Performance Platform– a bi-monthly live art event. Fay is a studio member of MART Dublin, and is a team member of Project Arts Centre. He has collaborated with the award winning theatre company Brokentalkers as both Stage Manager and Scenographer.

http://francisfay.blogspot.com/
http://www.francisfay.com
Maria Norrman is an artist, curator, creator and drag performer based in Malmö, Sweden. She mainly works with video and photography, in combination with performance and costume making. The works explore the meeting between hers and other peoples fantasies and topics such as war history, gender and sexuality. Norrman was born in 1987 and received her MFA from Malmö Art Academy in 2013. In 2019 she received a two year work grant from the Swedish Arts Grants Committee.