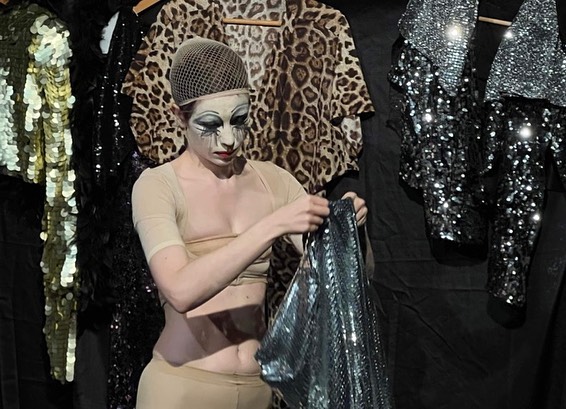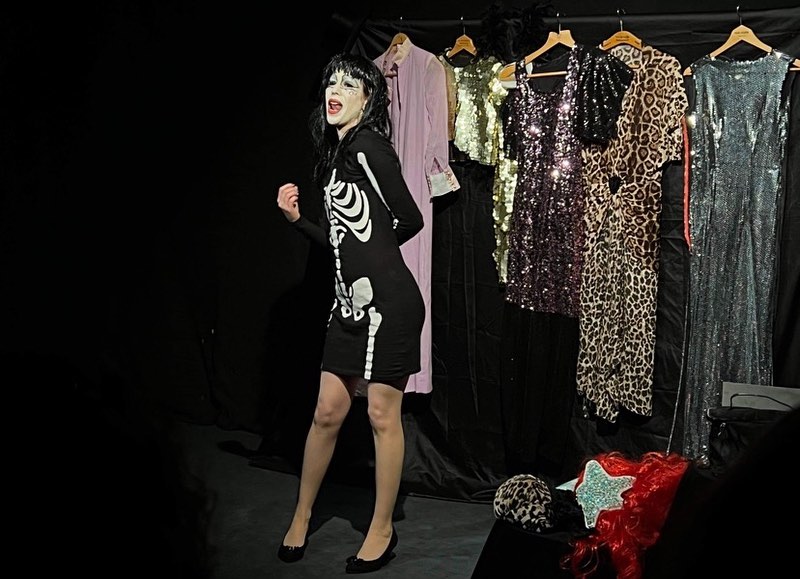 Millennium Star at 13festivalen in Gothenburg
Venue: Konstepidemin – Ada's Teater
Duration: 2h, 2 days (6-7 January 2023)
The audience could some and go as they wanted for the 2 hours.
Photos by Sara Samuelsson
For Millennium Star's performance at 13festivalen there was no separation between stage and backstage – as Millennium selected songs, undressed, dressed and restyled themselves for each lip sync fully visible to the audience.
All the things usually hidden from the audience was there to see – the unruly wig adjusted, the dress needing to be pulled and tucked, the exhausted performer sighing etc.
There were tears shed by people in the audience, to the performance of Iranian singer Googoosh, delighted eyes as the cabaret/queer classic Mein Herr was performed (without the stuff usually linked to the tune such as a chair and a bowler hat – the style of choice was a skeleton dress + black wig), and Millennium specially enjoyed performing Dalida's song Helwa Ya Baladi (devoted to her homeland Egypt) as it speaks of longing and homecoming – Gothenburg and the region being the home region of the artist, where she went to Dômen art school once upon a time.
Thank you to 13festivalen, Konstepidemin and Ada's Teater for making this performance possible!
Songs performed:
Dalida – Kalimba de Luna
Ana Moura – Dia de Folga
Googoosh – Az Hameh Rang
Dalida – Helwa Ya Baladi
Yma Sumac – Malambo nr. 1
Marlene Dietrich – Near You
Liza Minnelli- Mein Herr
Dalida – Besame Mucho
Mae West – I Found A New Way To Go To Town
Googoosh – Bemoon Ta Bemoonam
Eartha Kitt – I'd rather be burned as a witch
Dalida – Laissez-moi Danser