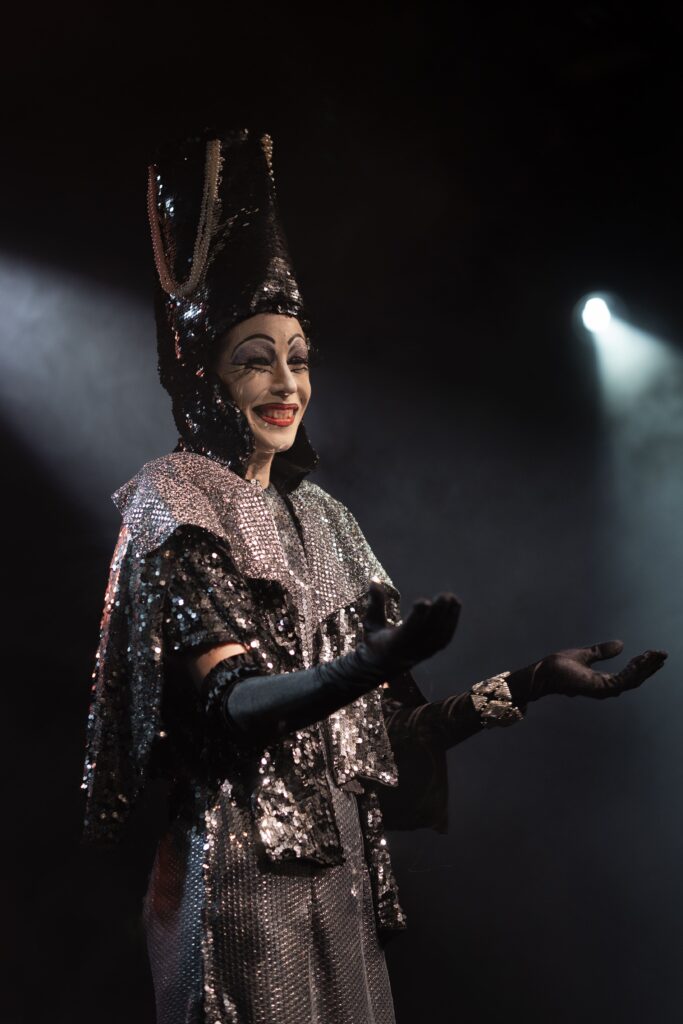 Millennium Star
Drag queer persona
2012 – ongoing
Many years before Norrman heard of RuPauls Drag Race and terms like "faux queen" (cis women who do feminine drag) she asked herself what would happen if a female bodied person was made into a drag queen?
What would happen to that person's sense of gender and identity, and how would their surroundings react? Norrman decided to give a drag artist the task of making her into a drag queen.
Thus Millennium Star was created, a character which allowed her to, step by step, perform in different settings and places where Norrman wouldn't dare, or want, to put herself. Millennium Star allows her to explore an existence on the side of the gender binary, where a more fluid state can exist.
Millennium is a displaced diva. Something is always slightly off in their performances, as in having a drag performance happen on that certain site or, with the performance itself. Such as the performances done under the umbrella of Gallery Extra, which brought Millennium to do a glittery lip sync performance at the almost empty Lorensborg shopping center in Malmö.
Millennium Star started as, and still is, a way for Norrman to express herself, using femininity as a style. A style and expression we're taught to shun and turn away from in order to be taken seriously.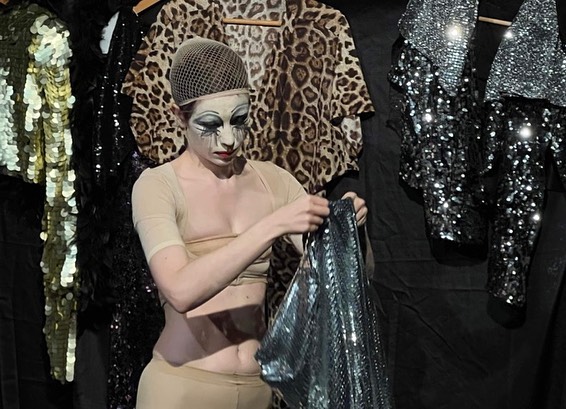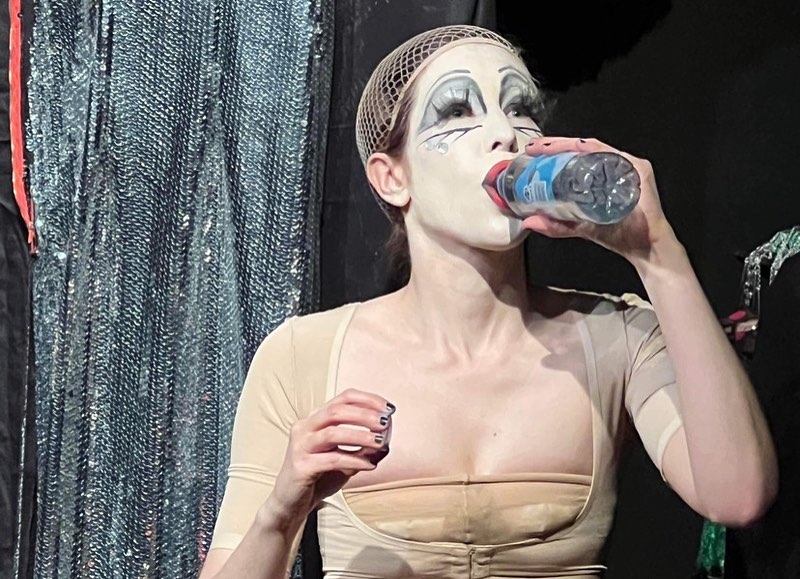 Millennium Star at 13festivalen in Gothenburg
Venue: Konstepidemin – Ada's Teater
Duration: 2h, 2 days (6-7 January 2023)
The audience could some and go as they wanted for the 2 hours.
Photos by Sara Samuelsson
For Millennium Star's performance at 13festivalen there was no separation between stage and backstage – as Millennium selected songs, undressed, dressed and restyled themselves for each lip sync fully visible to the audience.
All the things usually hidden from the audience was there to see – the unruly wig adjusted, the dress needing to be pulled and tucked, the exhausted performer sighing etc.
There were tears shed by people in the audience, to the performance of Iranian singer Googoosh, delighted eyes as the cabaret/queer classic Mein Herr was performed (without the stuff usually linked to the tune such as a chair and a bowler hat – the style of choice was a skeleton dress + black wig), and Millennium specially enjoyed performing Dalida's song Helwa Ya Baladi (devoted to her homeland Egypt) as it speaks of longing and homecoming – Gothenburg and the region being the home region of the artist, where she went to Dômen art school once upon a time.
Millennium Star performs at Supermarket 2021
Filmed by RV Ek
Millennium Star | Maria Norrman (SE)
In this ode to the sea and Stockholm, The World Renown Millennium Star (a.k.a. Maria Norrman) mimes to Swedish schlager and revue songs from the 1930s & 40s in praise of the nautical life and life in Stockholm, albeit with a slight political edge.
Kulturföreningen Tegel presenterar Konst vid ån – 22/6 i Utvälinge
Maria Norrman – Millennium Star
Susanna Hesselberg – Tree Guy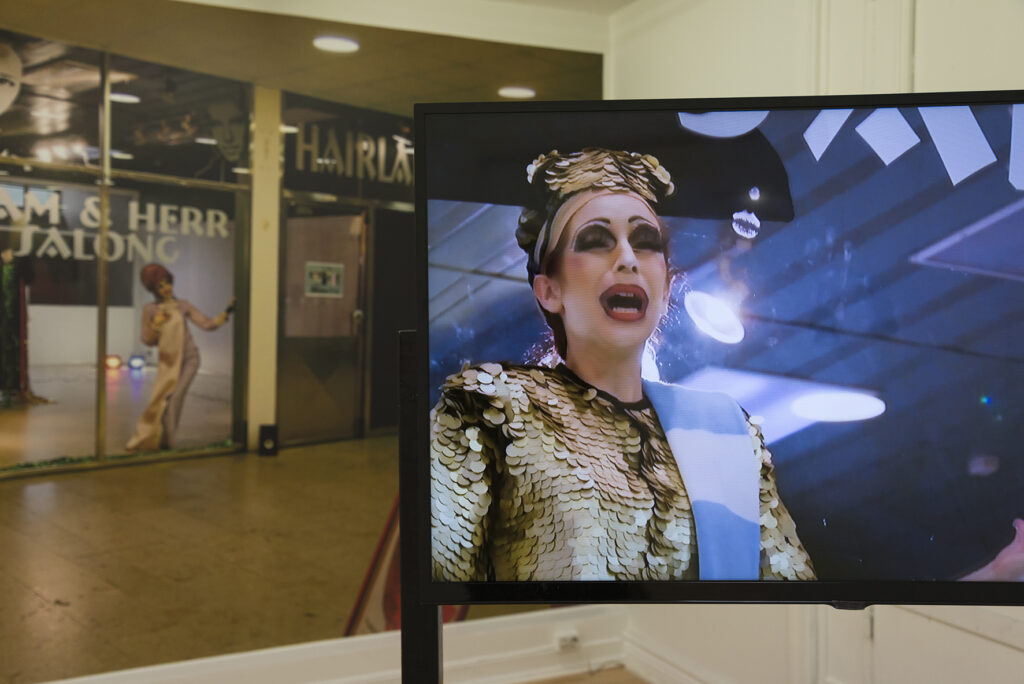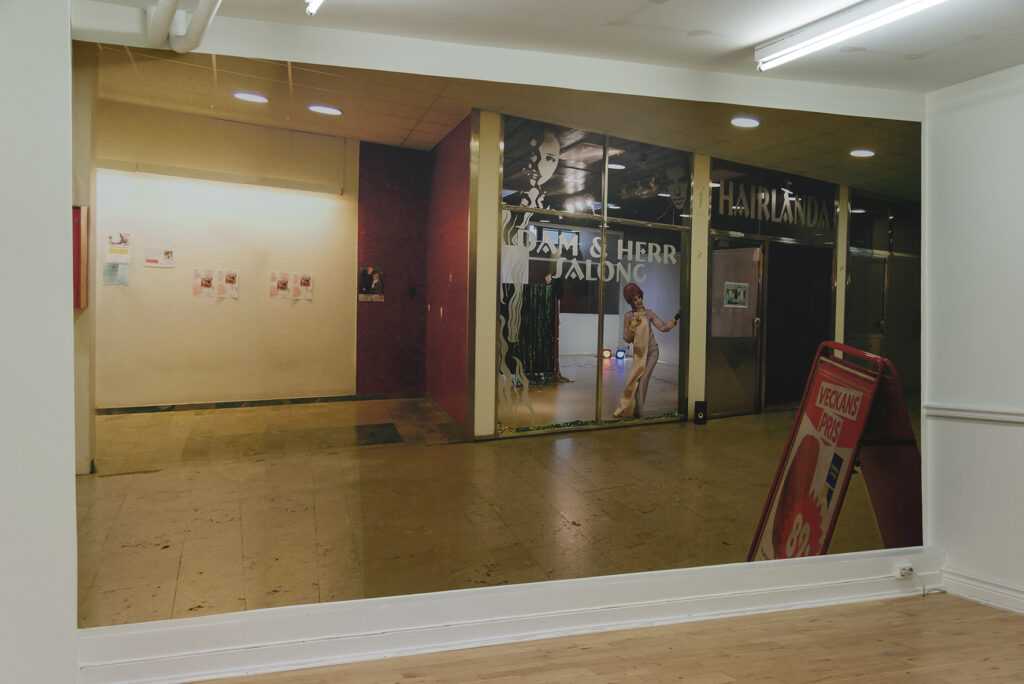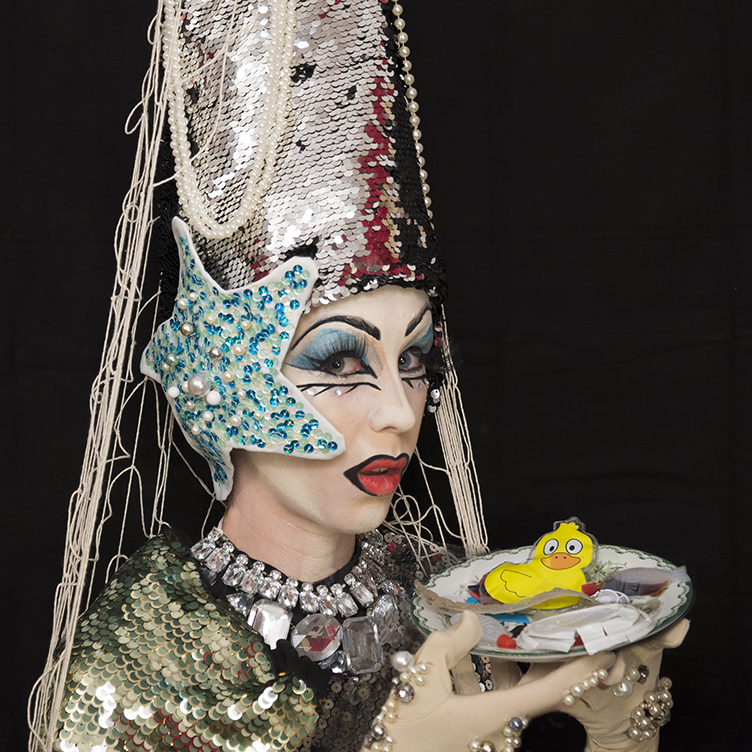 11 September – 11 October 2020
Millennium Star at Sydhavn Station
Performance, installation and billboard image

Part of the group exhibition Hamn – with Arngrimur Borgthorsson, Maria Norrman, Maja Gade Christensen, Anders S. Solberg, Sofia Wickman.

Curated by Maja Gade Christensen and Anne Skole Overgaard.
Udstillingsstedet Sydhavn Station, Copenhagen, Denmark


Millennium Star lip synced to Danish songs related to Copenhagen as well as the ever present theme of love and the artist role. Millennium changed outfit in the dressing room for each new performance.
The performances took place during the covid-19 pandemic with restrictions being implemented in Denmark, which gave flavour to songs such as "Er København Den Samme Som Den Var En Gang" (Is Copenhagen the same as it used to be?)

The billboard image Millennium Star Serving Fish is shown in the public space of S-train station Sydhavn (south harbor.) The title references "serving fish" – the drag term for presenting femininity/passing as a biological woman – as well as Millenniums gesture of serving "fish" on a plate – showing marine related debris gathered by Norrman on her many litter picking sessions around the waters of Öresund.

Parts of found plastic trash is incorporated into the nets hanging from the crown of Millennium's sea goddess outfit. The sea theme is a wink to the statue of a fisher woman which used to be placed by Sydhavn station, as well as a reference to Norrmans home region of Bohuslän, known for its seaside and the stereotypes connected to it.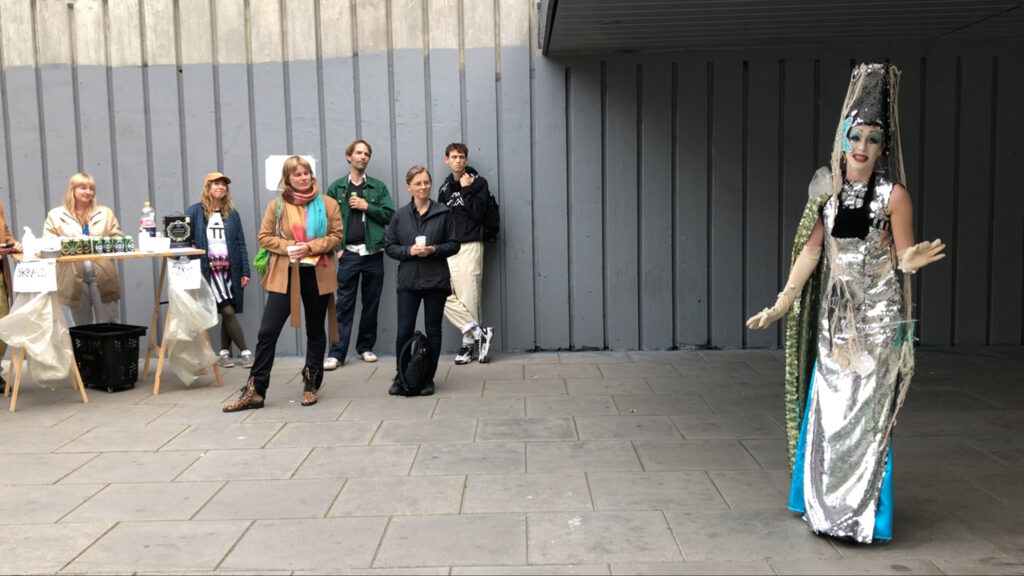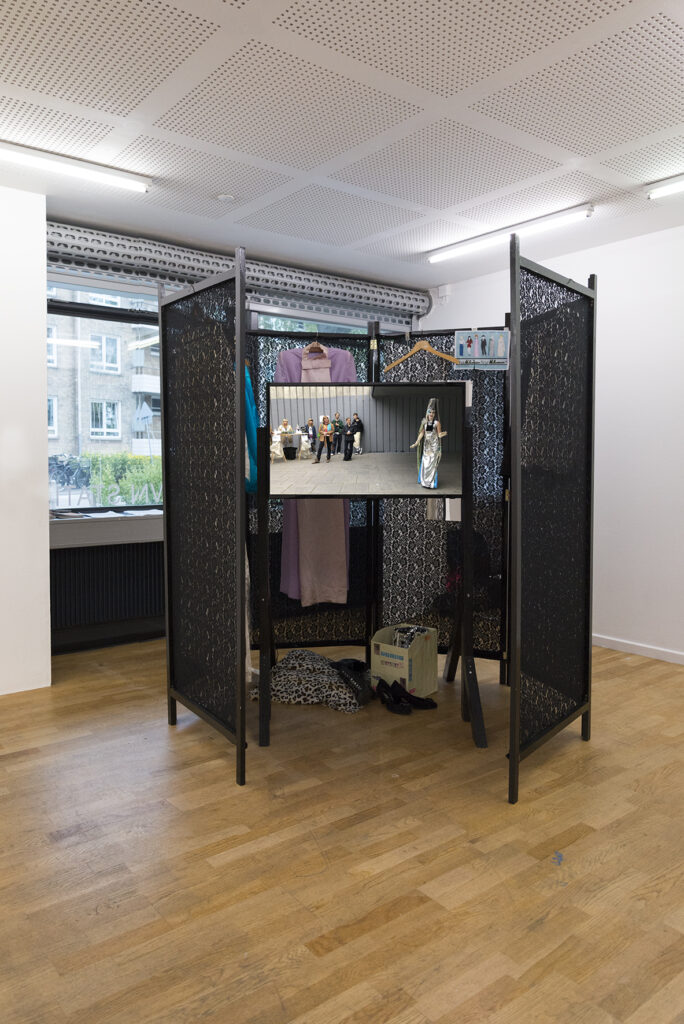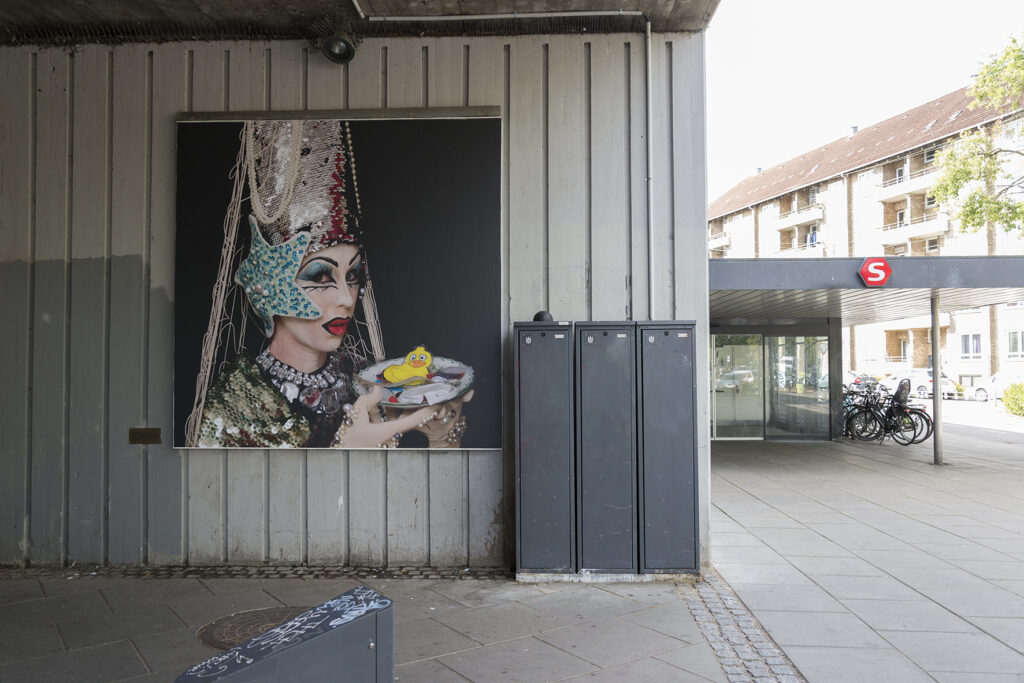 3 June 2020
Millennium Star-Gazer
Live streamed face treatment + tarot readings
Personal Spa TV
Gallery Extra, Fish Tank at Panora, Malmö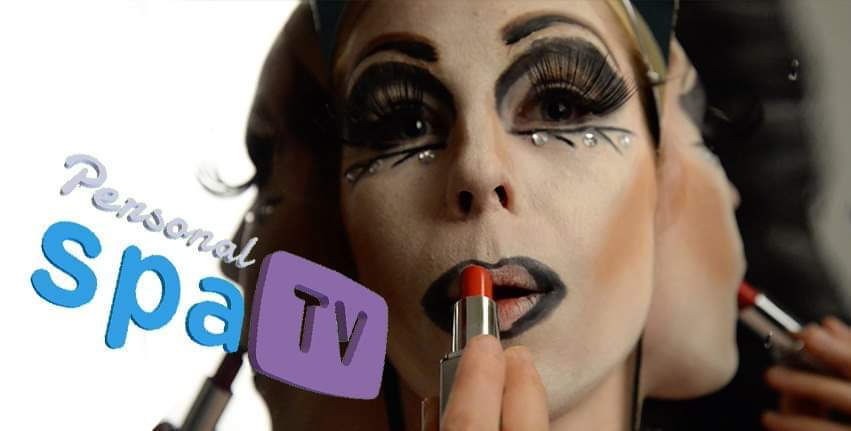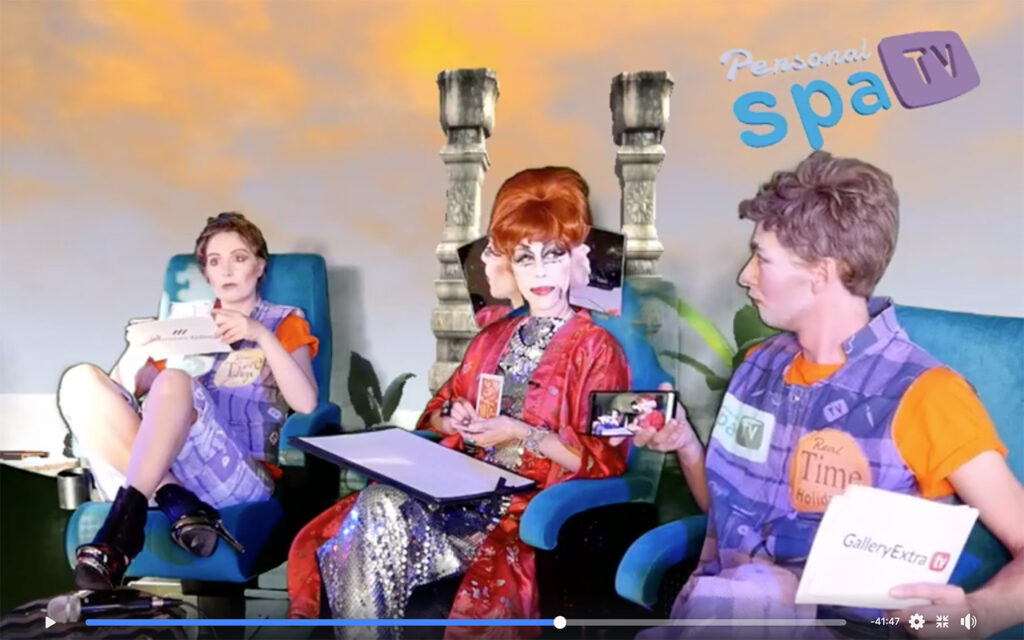 Millennium Star Lip Syncs For Their Life
Lip sync performance, 2-3 November, 3 hours per day
Lorensborg shopping center, Malmö
2019

Photos by Graziella Loyrette/Gallery Extra

Millennium Star performed in a former hair salon at Lorensborg, Malmö during one weekend in November 2019. The shopping center was almost empty, aside from a restaurant and a grocery store.
Millennium Star lip synced and danced to fifteen songs from different countries and decades, in different languages such as Portugese, German, Farsi and Konkani. Millennium changed outfit behind a folding wall for each song.

The duration of each performance was 3 hours.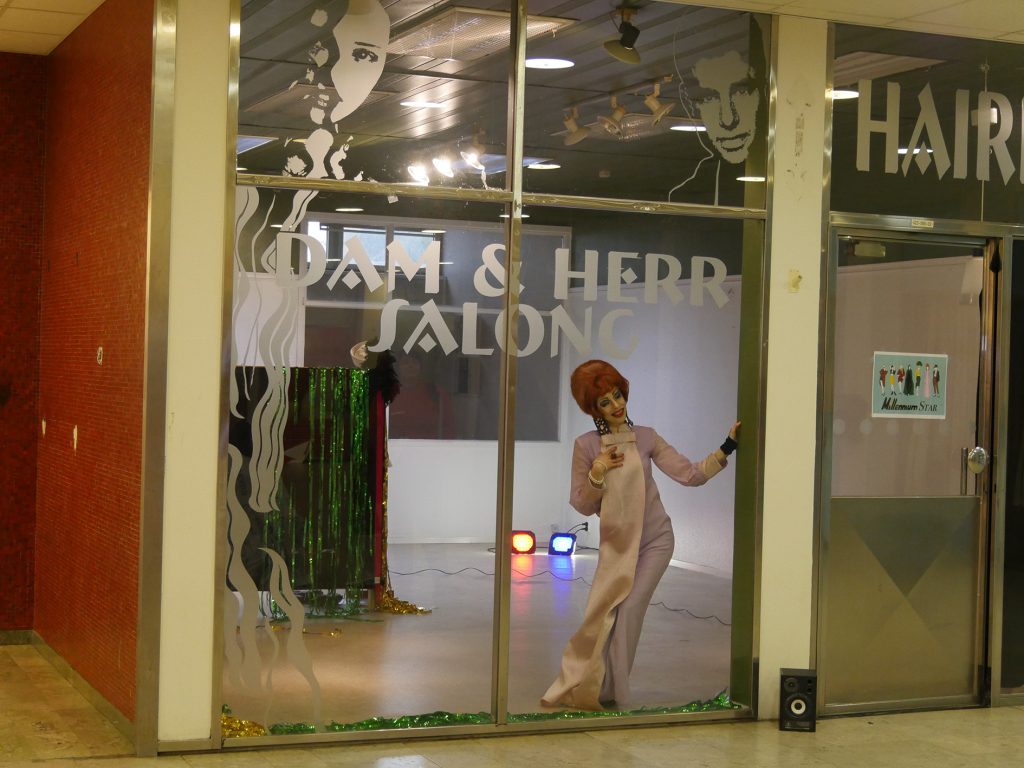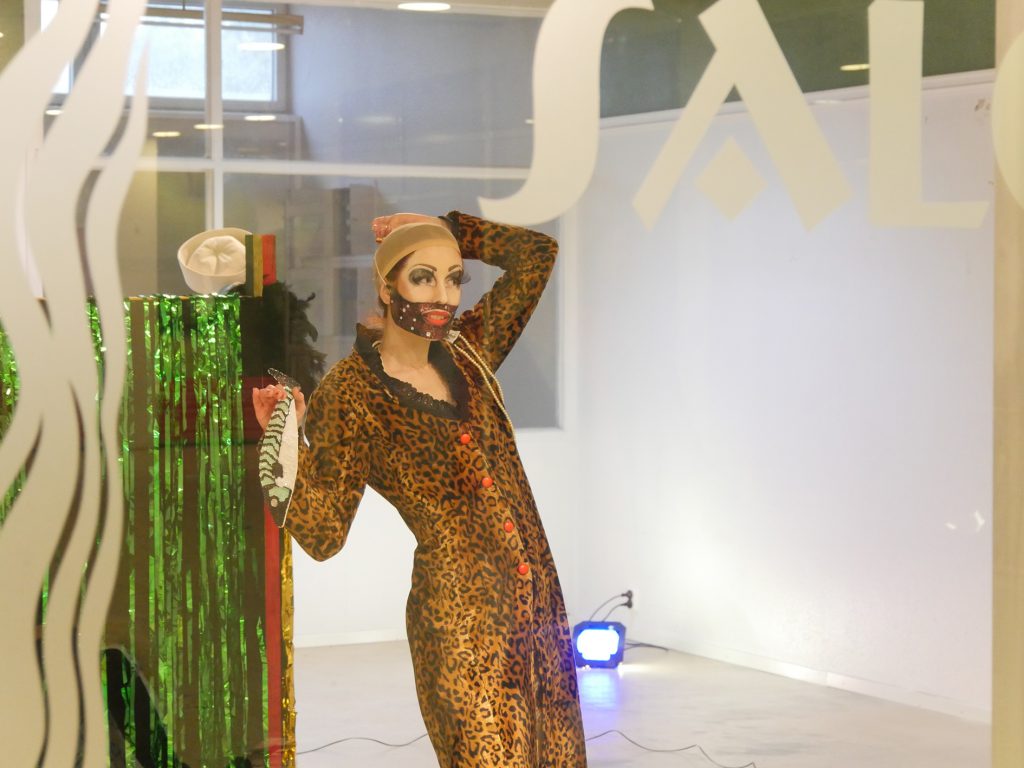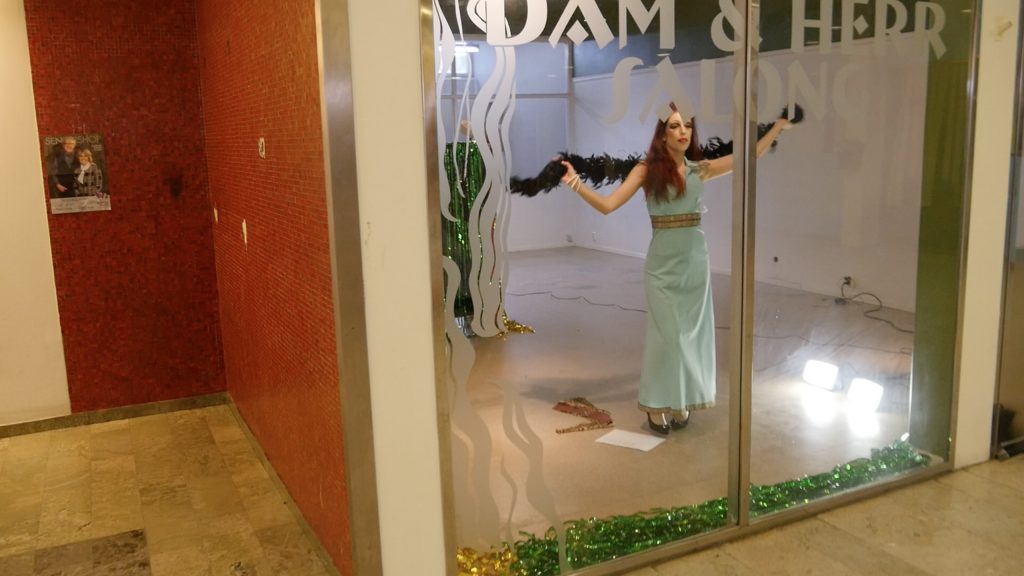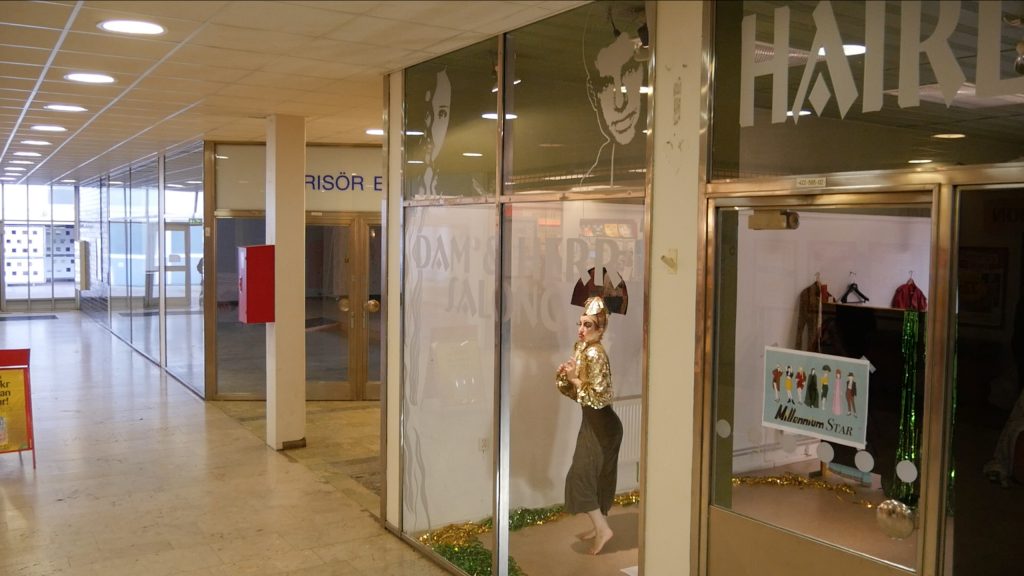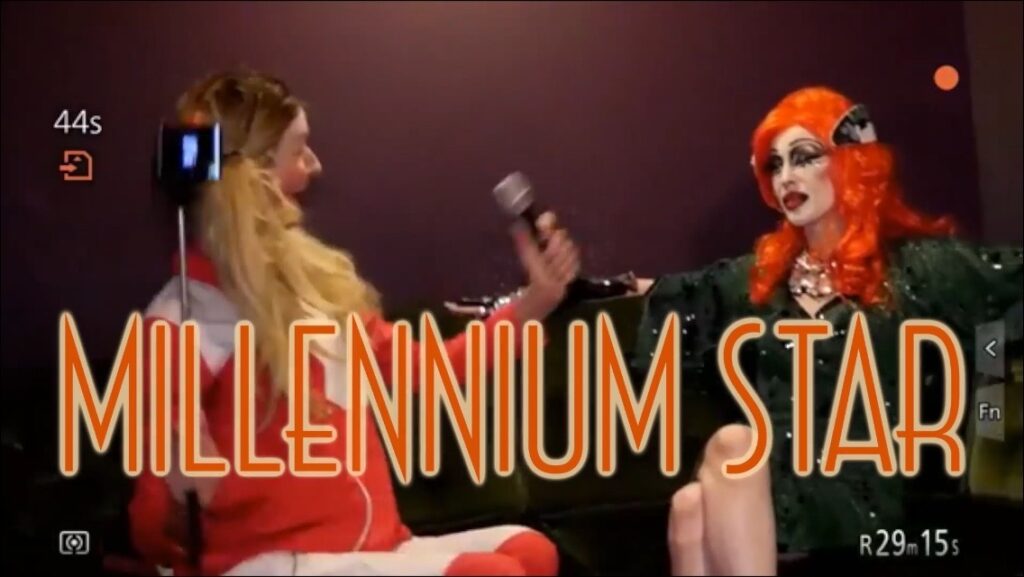 BAL ILLEGAL#2 – 13 June 2020
BAL ILLEGAL is an online happening, a performance party, a ballroom, a stream
And most importantly, a support party for The Asylum Group in Malmö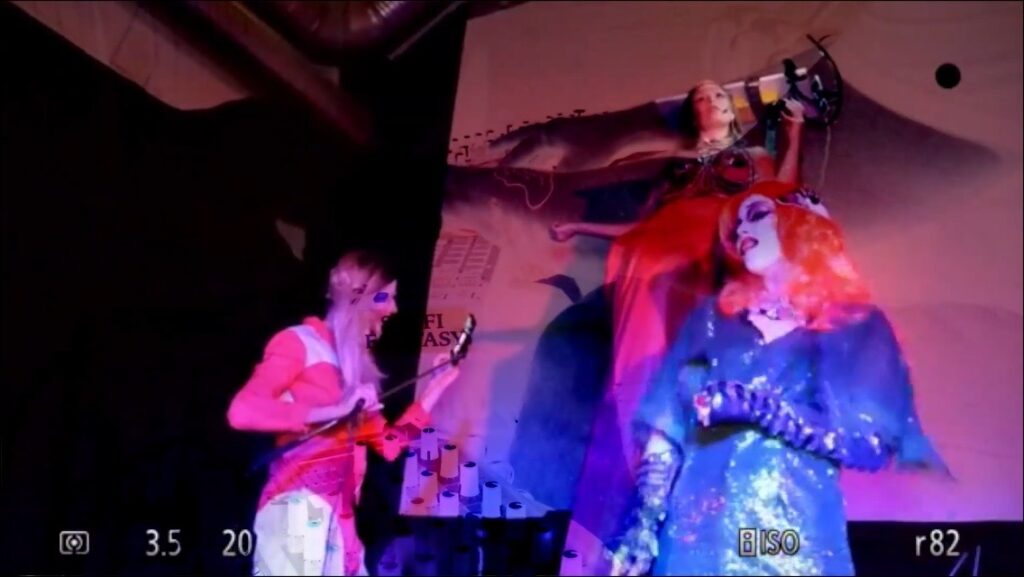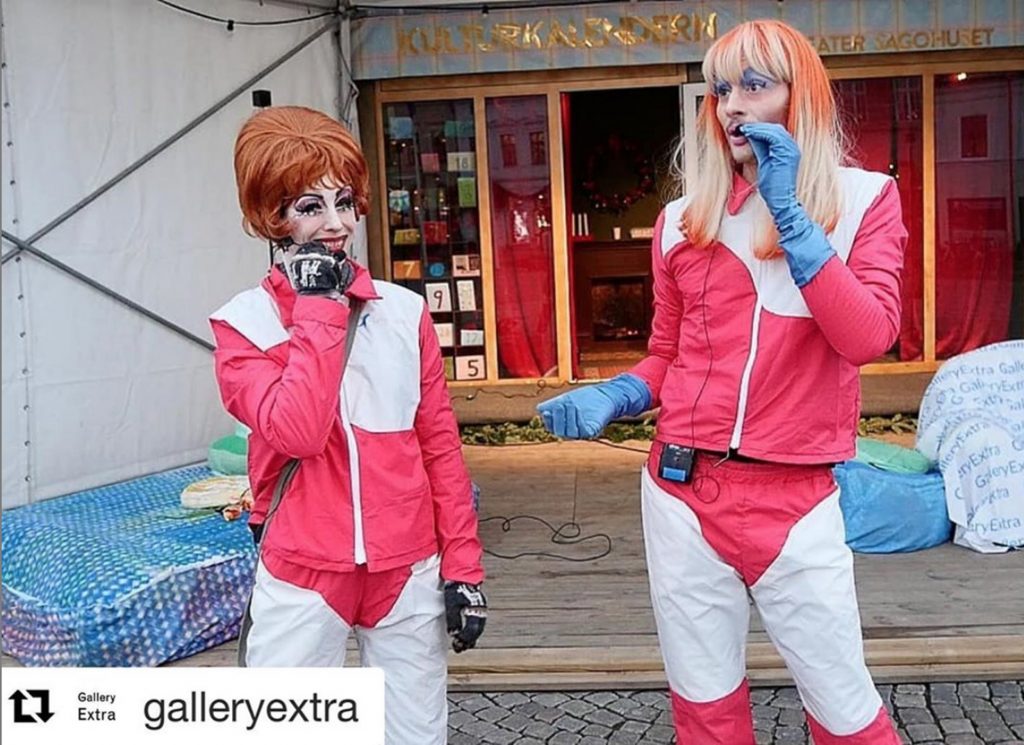 Time Travel Ice Break
Presented by Gallery Extra
Lund 2019

Millennium Star working as a Virtual Reality travel guide at Vinterlund in Lund 2019.
Millennium and colleague Johan Lundin was at Stortorget in Lund, Sweden and helped passerby's try Virtual Reality-glasses and travel in the snow landscape Ice Break.
Millennium and Johan also performed "Fun Fitness", a kind of gymnastics/dance with passerby's could join in on if they wanted to.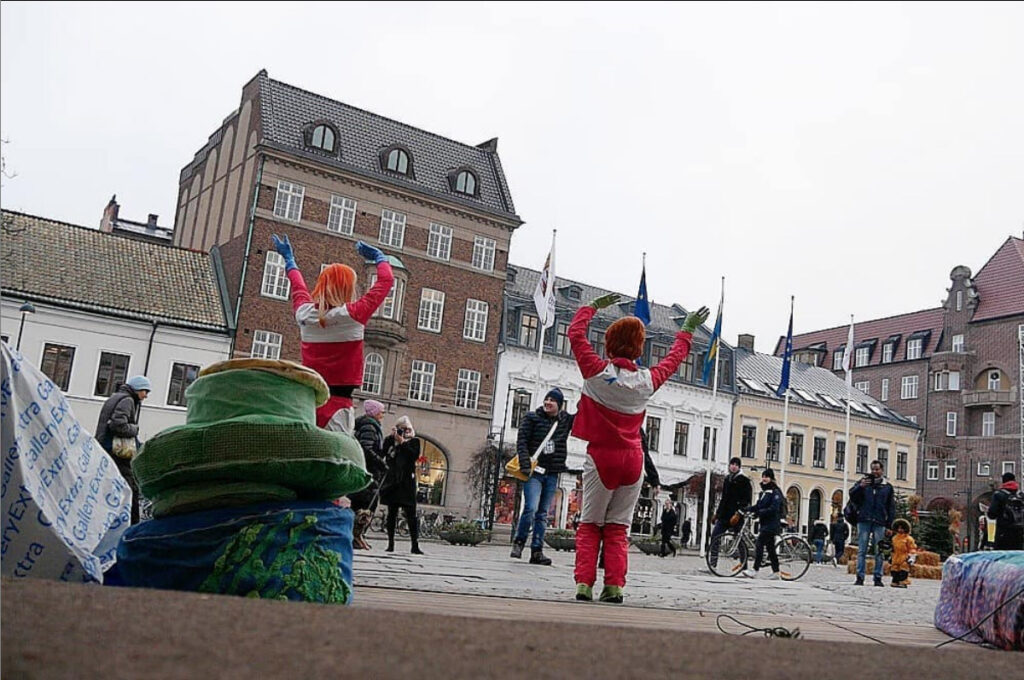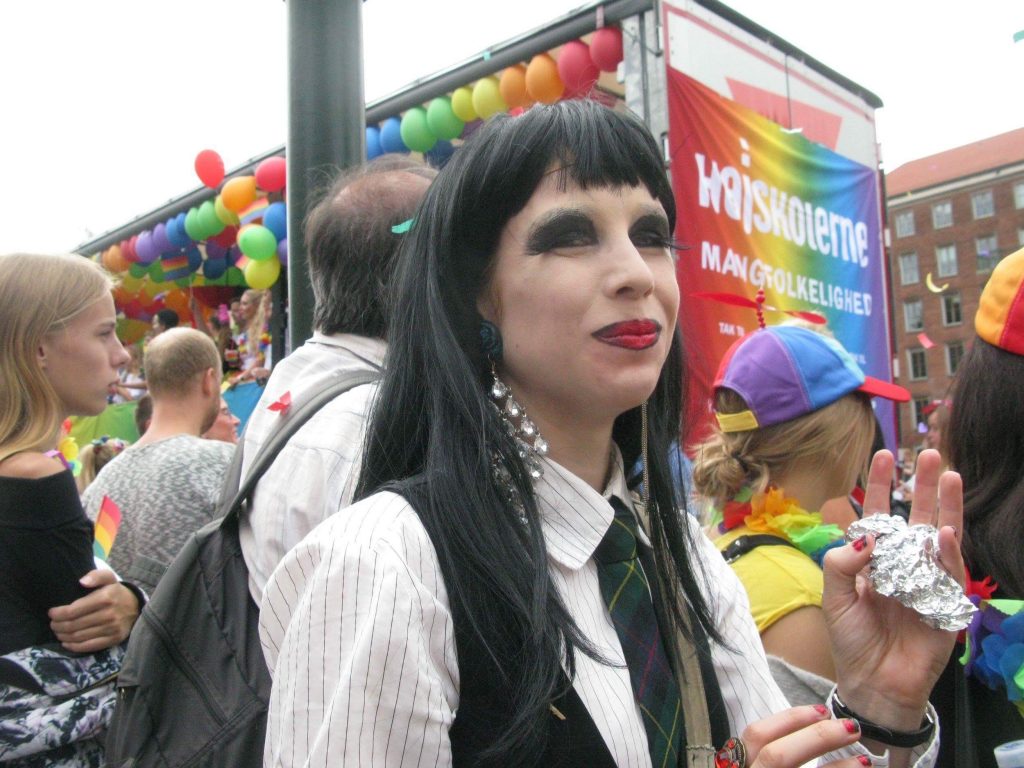 Millennium Star at Copenhagen Pride 2018
Photos by Ramona Dima
Millennium Star on the cover of ETC Malmö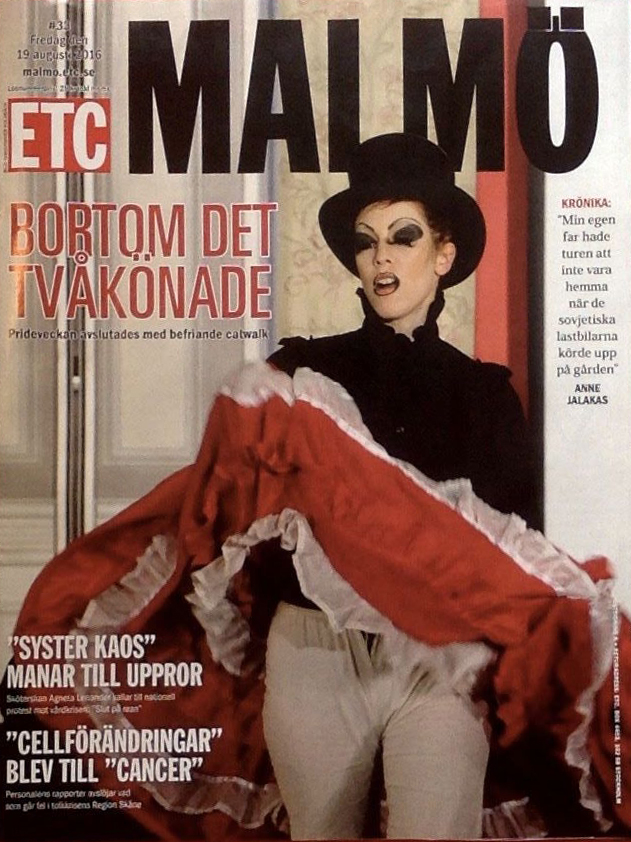 From Breaking The Binary – A Gender Liberating Fashion Show, hosted by Ivan Fahy during Malmö Pride 2016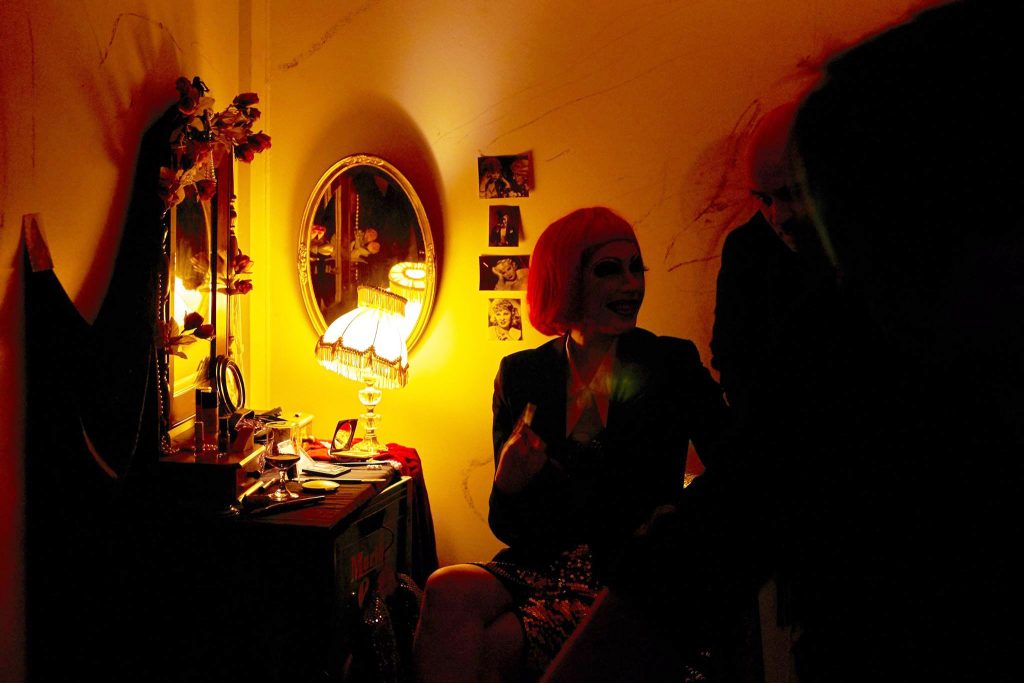 Millennium Star in a durational performance, 3 hours
Gallery 21, Malmö
2016
Photos by Julia Rutt Petersen
During the three hours, Millennium Star put on makeup, starting with wearing none. They interacted with curious visitors, with other performative acts happening in the gallery space, or just made their face, while being watched over by the gallery crowd.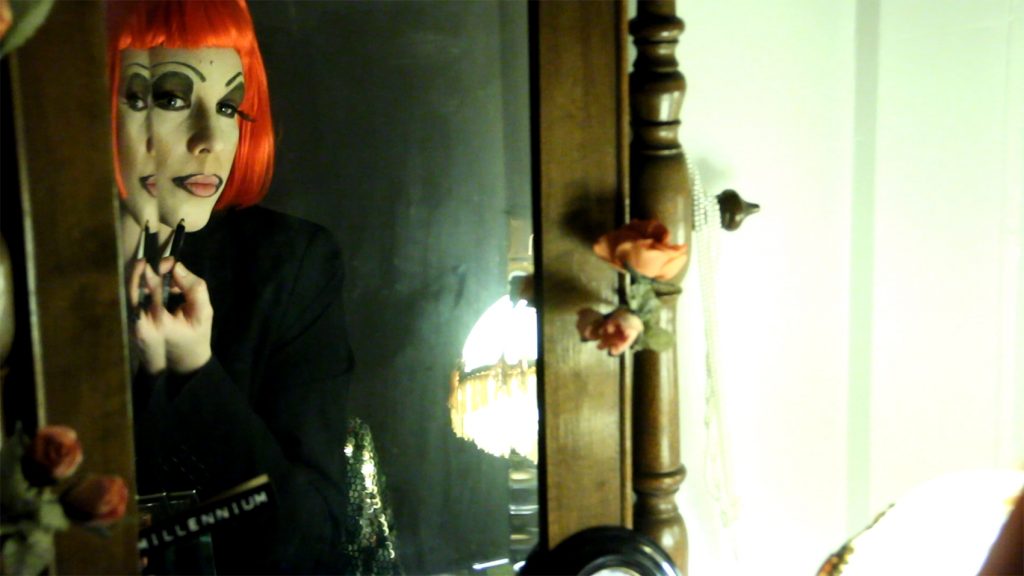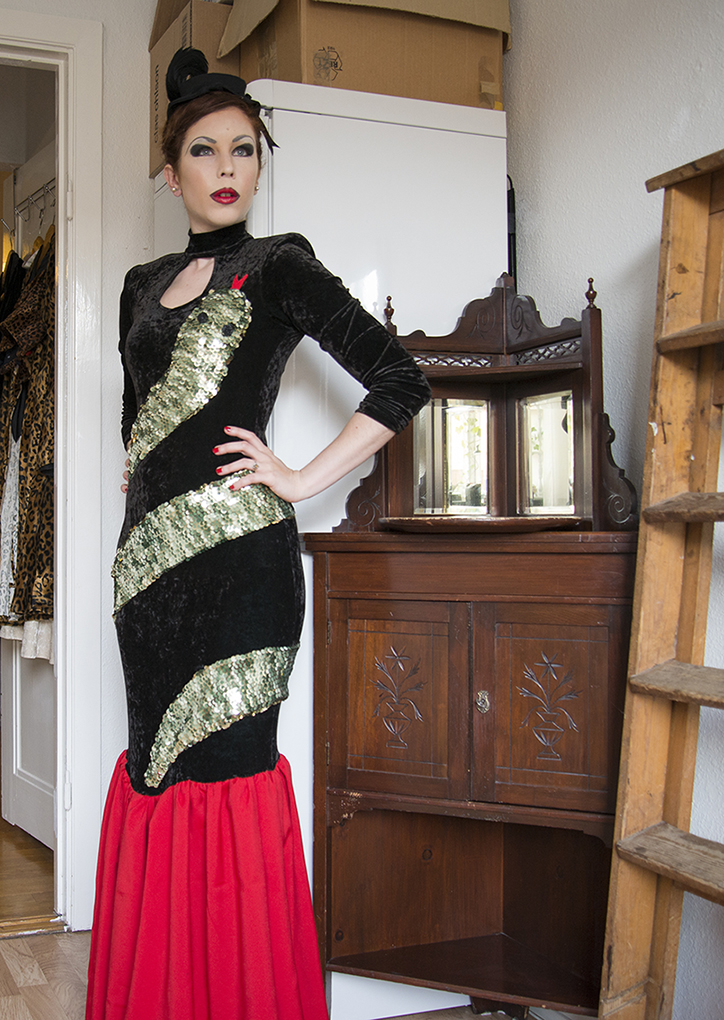 Millennium Star going to town in 2016.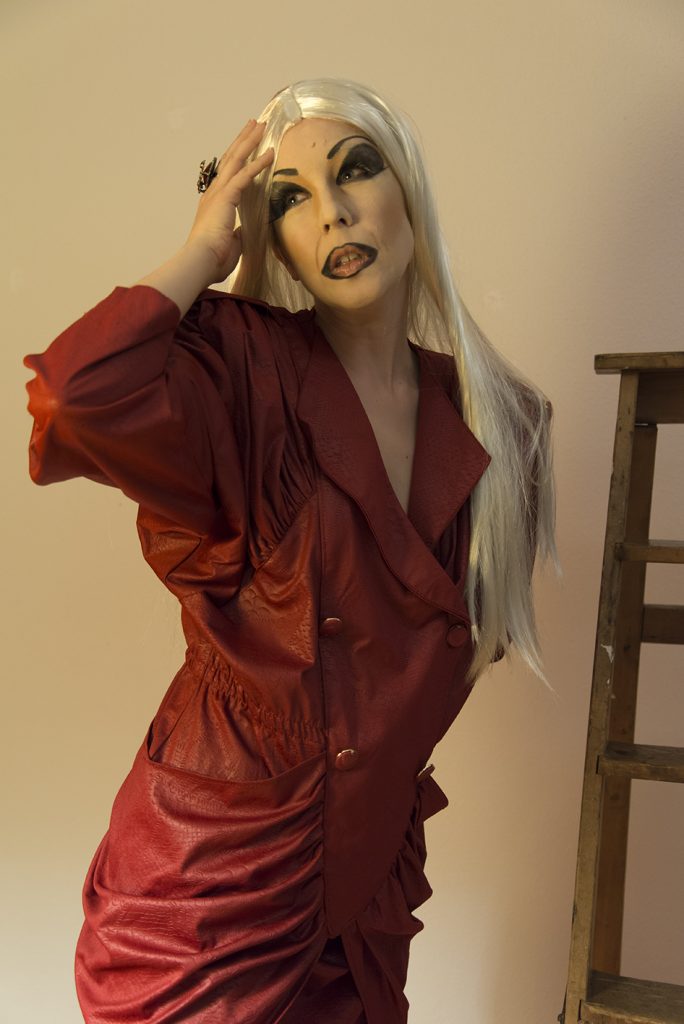 Portraits of Millennium Star, 2017