2021 – Sydsvenskan, review of Jane Avril at Galleri Ping-Pong




2020 – Cora Magazine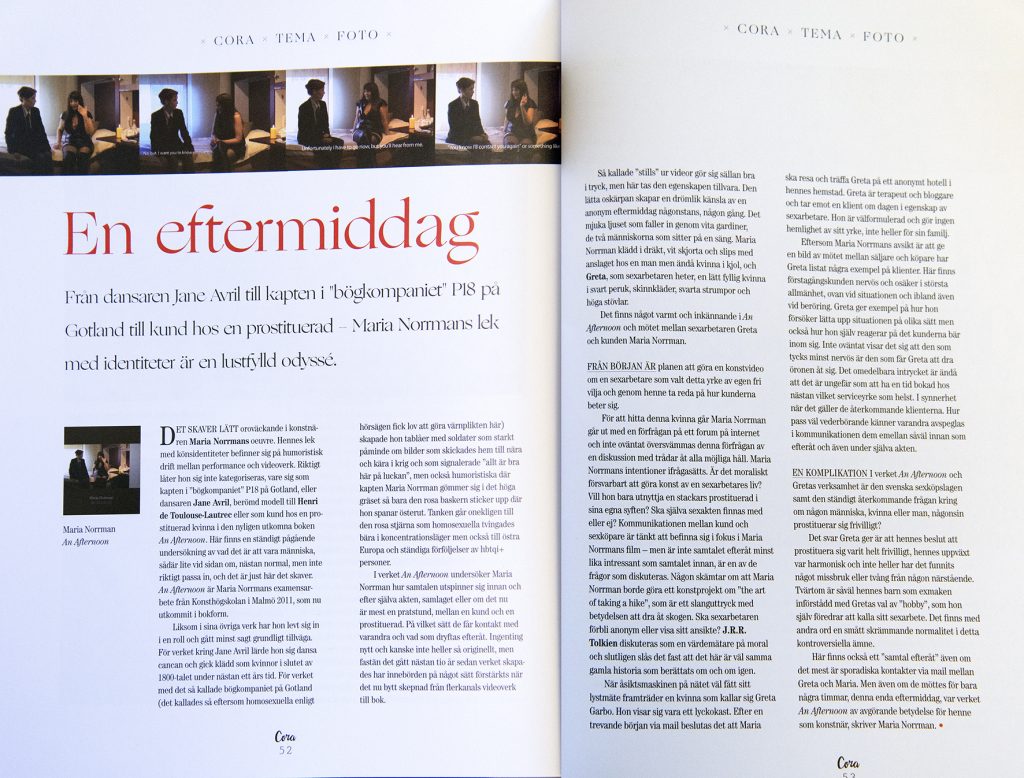 2018 October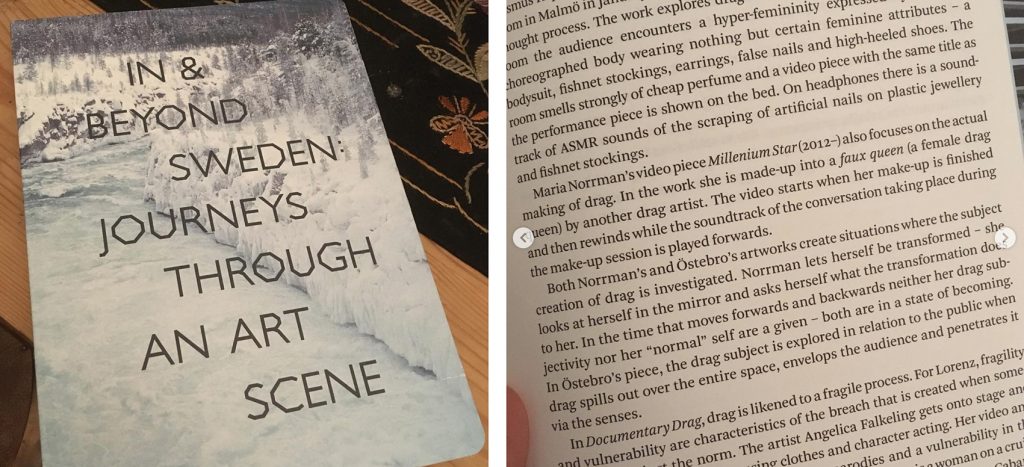 Referenced in the text Drag Proposes Images in Which The Future Can Be Lived by Albin Hillervik. Published in In & Beyond Sweden: Journeys Through An Art Scene for the Moderna Exhibition 2018
2018 January – Sydsvenskan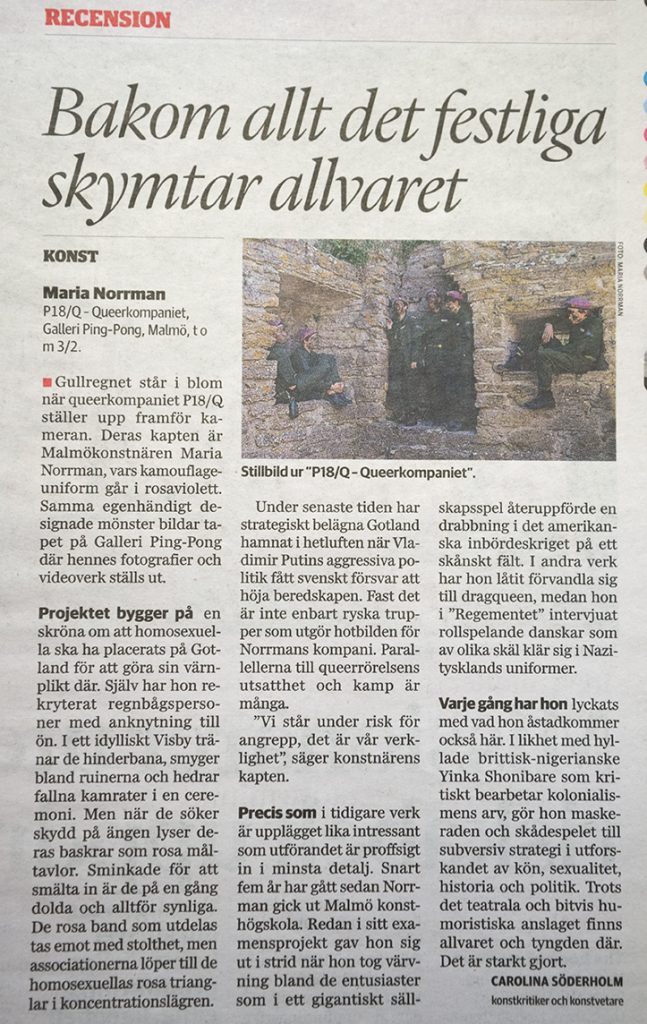 Review of P18/Q – The Queer Company at Gallery Ping-Pong, Malmö
2017 May – Cora Magazine
Article about P18/Q – The Queer Company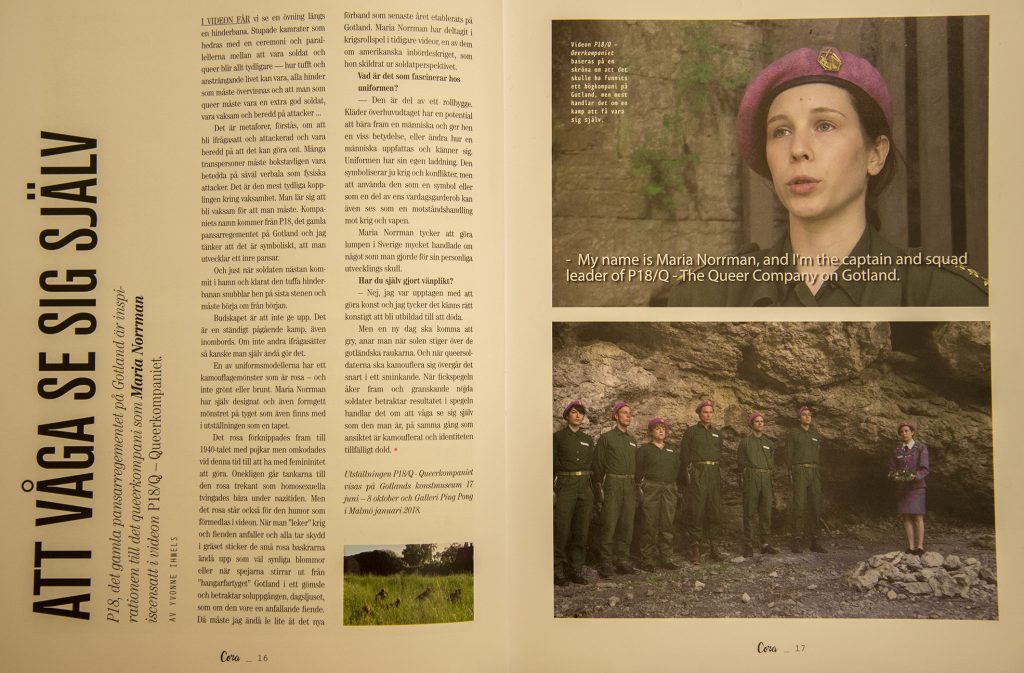 To dare to see oneself
P18, the old tank regiment on Gotland is the inspiration for the queer company that Maria Norrman has staged in the video P18/Q – The Queer company.
In the video we see an exercise on an obstacle course. Fallen comrades that are honoured in a ceremony and the parallells between being queer and a fighter gets clearer – how hard and tough life can be, all obstacles that needs to be overcome and that as a queer person, one has to be an extra good soldier, be vigilant and prepared for attacks.
It is of course metaphors, about being questioned and attacked and be prepared that it can hurt. Many transgendered persons have to be prepared for both physical and verbal attacks. That is the most obvious link to vigilance. One learns to be vigilant because one has to.
The name of the company comes from P18, the old tank regiment on Gotland and I believe that's also a symbol, that one develops an inner armour.
And just as the soldier almost made it and completed the tough obstacle course, they trip and have to start over. The message is to not give up. Its an ongoing struggle, also inwards. If no one questions you, perhaps oneself does.
One of the uniforms has a camouflage pattern that is the color pink, and not green or brown. Maria Norrman has designed the uniform and the pattern, which is also present in the exhibition as a wallpaper.
The color pink was up until the 40's associated with men and boys, but was recoded as a feminine color. Undeniably, thoughts go to the pink triangle that homosexuals had to wear during the nazi era. But the pink color is also connected with the humour that is present in the video.
When the company "play" war and the enemy attacks, and everyone takes shelter in the grass, you can still see the pink berets sticking up as flowers in the grass, or when the scouts look out from Gotland "the carrier ship," from a hide and watches the sunset, daylight, as if it was an enemy attacking. I smile at this new unit that has established itself on Gotland in the last year.
Maria Norrman has been partaking in role play concerning war in earlier works, one of them deals with the American Civil War, which she has portrayed from the soldiers perspective.
What fascinates you about the uniform?
– It is part of role building. Clothes has a potential to carry a person and give them certain meaning, or change how a person is perceived and how they feel about themselves. The uniform is a charged garment. It symbolises war and conflict but to use it as a symbol, or as part of ones everyday wardrobe can be seen as a resistance act against war and guns.
Maria Norrman feels that doing military service in Sweden was much about doing it for ones own personal development.
– Did you do military service?
– No, I was busy making art and it feels strange to be trained to kill.
But a new day will come, one suspects as the sun raises over the Gotlandic rauk stones. And when the queer soldiers are camouflaging themselves it soon turns into a make up session. When the pocket mirror is picked up and the soldiers inspect the result, it's about daring to see oneself as one is, yet at the same time the face is camouflaged and the identity is temporarily covered.
The exhibition P18/Q – The Queer Company is shown at Gotland Art Museum 17th June – 8th October and at Gallery Ping Pong in Malmö in January 2018.
2017 January – Landets Fria Tidning
Article about P18/Q – The Queer Company
Hemskt Roligt at Gallery 21, Malmö, Sweden
Burden of Knowledge at Molekyl gallery, Malmö, Sweden
2013 December – merkkunst.blogspot.no
Blog post about North & South, screened at One Night Only, Oslo , Norway
Species of Space at The Museum of Public art, Lund, Sweden
2012 September – BLT – Sydöstran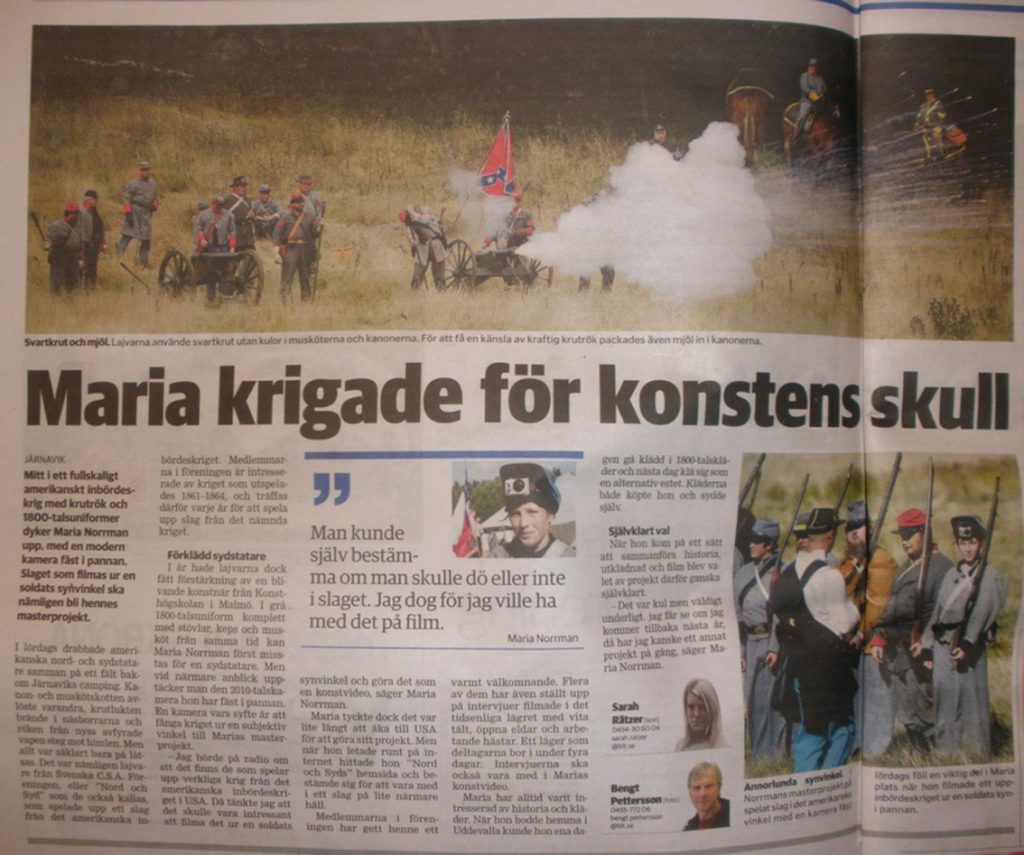 Article about the filming of North & South at the American Civil War reenactment in Blekinge, Sweden
Maria went to war for the arts
Quote: You could decide if you wanted to die in the battle or not. I died because I wanted it on film.
In the middle of an American Civil War with gun smoke and 19th century uniforms, Maria Norrman shows up with a modern camera attached to her forehead. The battle, which was filmed from a soldiers point of view, will become her masters project.
This past Saturday, American Northerners and Southerners had a battle on a field behind Järnavik campsite in Blekinge, Sweden. The cannons and muskets were fired, the gun smoke stinging in the nostrils and the smoke from recently fired guns rose to the sky. But it was all a fantasy of course. It was reenactors from the Swedish Confederate club, or North and South as they're also called, who reenacted a battle from the American Civil War. The members of the club are interested in the war, which took place from 1861-1964, and they meet every year to reenact a battle from the war in question.
Disguised Southerner
This year, the reenactors had a reinforcement from an artist to be from Malmö Art Academy. Dressed in a grey 19th century uniform, complete with boots, cap and a musket from the era, Maria Norrman could at first be mistaken for a Southerner. But on a closer inspection one discovers the camera, model 2010s, that she has attached to her forehead. A camera which purpose is to capture the war from a subjective angle for Marias masters project.
– I heard on the radio about people who reenact real wars from the Civil War in America. I thought that it would be interesting to film that from a soldiers perspective and make it into an art video, says Maria Norrman. Maria thought it was too far to go to the states to make her project. But when she looked around on the internet she found the website of North and South and decided to take part in a battle closer to home.
The members in the club have given her a warm welcome. Several have given interviews in the 1860s style campsite, a camp complete with white tents, open fires and horses. The reenactors stay in the camp for four days. The interviews will also be featured in Marias art video. Maria has always been interested in history and clothes. When she lived in her hometown Uddevalla she could one day be dressed in 19th century clothing and in alternative art kid clothes the next. She made some of the clothes herself, and some were bought.
Natural choice
When she found a way to unite history, clothing and film, the choice of project felt natural. – It was fun but very peculiar, I'll see if I return next year, maybe I'll have another project going on then, says Maria Norrman.
2011 April – Bohusläningen
Ny Scen/New Scene at Bohusläns Museum, Uddevalla, Sweden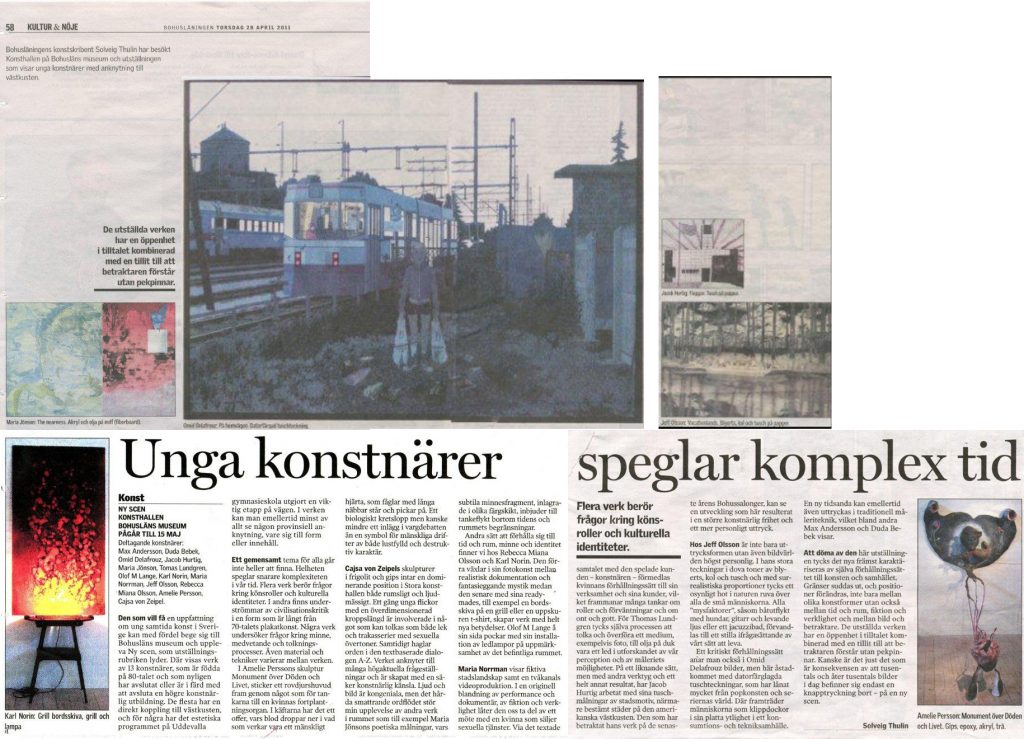 Young artists reflect a complex time
" Maria Norrman shows fictitious cityscapes and a two channel video production. In an original mix of performance and documentary, of fiction and reality, the video lets us take part of a meeting with a woman who sells sexual services. Through the conversation which we see as subtitles, the artist acts as customer and the woman shares her view on her activity and her customers, which raises many questions about roles and expectations and about good and evil."