crazinisT artisT/Va-Bene Fiatsi (GH)
Tore Hallas (DK)
Shape/Build/Form
11/3 – 10/4 2022
Curator: Arngrímur Borgþórsson (IS/SE) och Maria Norrman (SE)
Galleri CC presents the duo exhibition Shape/Build/Form, with Tore Hallas (DK) and crazinisT artisT/Va-Bene Fiatsi (GH).
Hallas and crazinisT contrast each other in many ways, although their meeting point are bodies which are marginalized, fetishized or discriminated against in their respective societies, as well as worldwide.
Tore Hallas's works focus on the discrimination of fat people like himself, as well as the desire for the body type. He gives voice to the necessity of being able to be different.crazinisT uses her own shape-shifting, gender non-conforming body in her performance and video works, as a tool to confront political injustice, violence, and objectification. Her art practice often take the form of performances to ritually protect and lament lost queer lives in her community in Ghana.
In the exhibition we are confronted with their work, and their inherent power. We're invited to observe, and take part in, the subtle and direct demands for the right to exist.
crazinisT shows the video works froZenwAll #01 and frozen – rituals of becoming which is centered on crazinisTs gender transition process. The works focus on rituals like bathing, shaving, combing hair, getting dressed, and doing makeup – the likes of which we all do daily.
The works show the bath as a baptismal metaphor for transition, as crazinisT goes through layers of becoming as the videos proceed.
dZikudZikui-aBiku-aBiikus is a guerrilla performance that took place in a public space in Kumasi, Ghana. It was performed in 2018 and is part of a series of interventions done on Good Friday in protest of conservative Christian ideals, which encourages discrimination of queer people.
The title is a combination of the word "dzikudzikui" (Ewe language) and the word "abiku" (Yoruba language), which means the most vulnerable individuals of a society, who are believed to be owned by death.
crazinisT is currently active in trying to stop a bill from the Ghanaian government, which aims to criminalize LGBTQ+ persons, who could face jail time of up to 5-10 years.
Tore Hallas's work is about fatness and queerness. It touches on how fatness can become an ever-present spectre that inundates every aspect and facet of everyday life for anyone fat, at the same time as fat bodies themselves are considered taboo and are discriminated against in society.
In his new series of photographic works still in development, 'Beholder Behold Beholder Behold' Hallas makes us confront bodies, which are obscured from us in the works, but through the interaction and effort of the viewer becomes more and more visible. The viewer has to fight to view the body, sometimes one deemed desirable, sometimes the opposite. The still unsettled title refers to the gaze of the viewer, and Danish/English word play asks what you are beholding and what you contain. What desires are contained in the images, and what are your projections, contained in you.
The work "NO." was first shown on billboard LED-screens in public spaces in Copenhagen. "NO." consists of seven poems or a poem divided into seven parts. Three of these texts are shown in the exhibition. They voice a resistance to the norm society and its demands on bodies and minds, a protest against society's pressure to produce. The work speaks for the right to not take part, either because one can't or doesn't want to.

Va-Bene Elikem Fiatsi [crazinisT artisT] was born 1981 in Ho, Ghana.
Her pronoun is "sHit," if not "she". She works internationally but lives in Kumasi, Ghana.
sHit is a multidisciplinary "artivist", curator, founder and artistic director of perfocraZe International Artists Residency (pIAR) which aimed at promoting exchange between international and local artists, activists, researchers, curators, and thinkers.
As a performer and installation artist, crazinisT investigates gender stereotypes, prejudices queerness, identity politics and conflicts, sexual stigma and their consequences for marginalized groups or individuals.
With rituals and a gender-fluid persona, sHit employs sHits own body as a thought-provoking tool in performances, photography, video, and installations, 'life-and-live-art' confronting issues such as disenfranchisement, social justice violence, objectification, internalized oppression, anti blackness, systematic indoctrination and many more.crazinisT has performed and exhibited across the globe including countries such as Nigeria, Togo, Ghana, Switzerland, South Africa, Germany, Netherlands, Cape Verde, USA, Spain, Brazil, France and the UK.
sHit has also been featured in several, publications and magazines such as the I-D Vice London, I-D Vice Dutch, Financial times, King Kong Magazine, CCQ London, Maimi Rails, 'Freeflowingvisuals', TRT WORD Film Documentary, This is Africa, Art Ghana, Lost At E Minor, CNN, The Frankfurter Allgemeine Zeitung, Die Tageszeitung (TAZ), Horizonte da Cena, Radio FRO etc
Tore Hallas (b. 1984) is a visual artist, living and working in Copenhagen, Denmark.
He works within themes of fatness and queerness, and fatness as queerness, as well as religious ontologies and intention, and photographic and cinematographic reflection. Personal narratives, and the intersectionality of violences and positionalities are undercurrents in his works, along with traveling as both physical displacement an symbolic quest.
Working primarily with video, photography and text, as well as teaching. He holds an MFA from The Royal Danish Academy of Fine Arts, School of Visual Arts and is the recipient of The Danish Arts Councils career program The Young Artistic Elite, as well as the Poul Erik Bech Foundations Art Prize and the 15. Juni Foundations Honorary Art Prize, and has exhibited both locally in Denmark and internationally in the United States and Europe.
Hallas's work "And Going After Strange Flesh" was recently shown in the exhibition (in)visible at Malmö Art Museum.
www.torehallas.com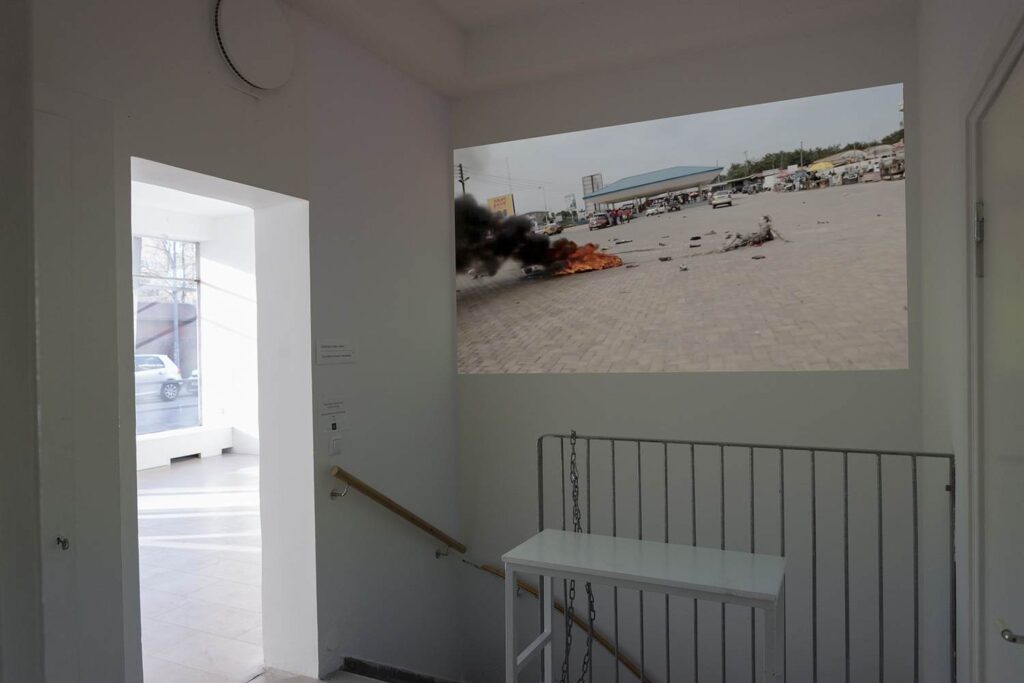 Photos: Sofia Wickman and Maria Norrman